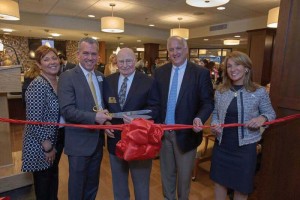 Shown (from left) are: Stephanie Handelson, president & COO of Benchmark Senior Living; Chris Golen, executive director of Benchmark Senior Living; Dr. Laurie Tolman, resident; Tom Grape, founder & CEO of Benchmark Senior Living and Karyn Polito, lieutenant governor of Mass.
Lincoln, MA Benchmark Senior Living celebrated the grand opening of Benchmark Senior Living at The Commons, a new rental assisted living and memory care community on the campus of The Commons in Lincoln.
The architect was JSA Inc. and the general contractor was C.E. Floyd Co.
Benchmark Senior Living began operation of The Commons in Lincoln as an independent living community in 2013. The company broke ground on the expansion in 2014 to provide residents and the local community with the senior living services that are becoming most in demand. The newly expanded campus includes skilled nursing, physical therapy, occupational therapy, speech therapy, inpatient and outpatient rehabilitation, assisted living, and Benchmark's award-winning Harbor Memory Care.
The 87,000 s/f expansion is devoted to care, while delivering the style and service one would expect from Benchmark Senior Living. The $34 million development features a LEED certifiable, energy-efficient building, which will also be equipped with the industry's latest technology. Benchmark has signed an agreement with a renewable energy power provider to provide at least 35% of the building's electricity via renewable resources. Services and amenities include high-speed wireless Internet, HD flat screen smart televisions, and on-site physical therapy suite, examination rooms and medical staff. Featured among the community's safety and security measures is an integrated solution for emergency call, wander management and access control developed by STANLEY Healthcare.
Matthew Weinstock, an industry leader with over 40 years of experience in skilled nursing and assisted living, will serve as the executive director of skilled nursing services at Benchmark Senior Living at The Commons.   
"The opening of Benchmark Senior Living at The Commons is a great accomplishment for our team as we continue to embrace our mission of quality resident care," said Tom Grape, founder, chief executive officer and chairman of Benchmark Senior Living.
The skilled nursing facility will benefit from the medical direction of Dr. John Anderson of Mount Auburn Hospital.  The campus' wellness center will be staffed by representatives of CareGroup Parmenter Home Care & Hospice, Inc.
"The expansion completes our vision to create a Continuing Care Retirement Community on Benchmark's Lincoln campus," said Chris Golen, campus executive director at The Commons in Lincoln.