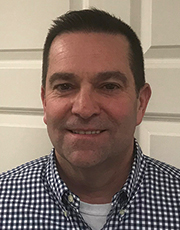 Whitman, MA T&K Asphalt, Inc., one of the region's leading provider of residential and commercial paving and asphalt maintenance services in New England, has named Eric Billingkoff as the firm's senior vice president of sales & marketing.
In this role, he will work with company president Steven Rose and the senior management team to assist the growing company with its sales and marketing efforts.
Billingkoff comes to T&K Asphalt with a strong resume of industry experience. He is the former New England regional sales manager for Benjamin Moore & Company, where he managed a team of 16 territory sales representatives and oversaw sales efforts to independent retailers, contractors, project managers and others within the six-state region.
Prior to his role with Benjamin Moore, he was territory sales representative for California Paint Company's New England division. He is a member of NACE International, a 36,000 member organization recognized globally as the premier authority for corrosion control solutions. The organization offers technical training and certification programs, conferences, industry standards, reports, publications, technical journals, government relations activities and more.
Billingkoff is a graduate of Assumption College, where he earned a bachelor of arts degree in Management and Marketing.
He is active in his hometown of North Attleborough, where he has been a coach for many years in a number of the community's sporting organizations. These include little league, youth basketball, and junior football.
Rose said, "We are very pleased to welcome Eric to our T&K family. This is a key position within our organization as we continue to expand, and we are confident that Eric's industry background, his integrity and reputation for excellence will serve us and our customers well."
Founded in 1987, T&K is now the largest residential and one of the largest commercial asphalt companies in New England, with projects ranging from residential driveways to large commercial projects. The company operates throughout New England with a mission to provide quality service with a focus on customer satisfaction. Services include commercial and residential sealcoating, paving, grading, curbing, line striping, parking lot and landscape construction.