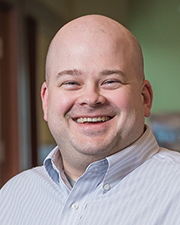 North Reading, MA Columbia Construction Company, a leading construction management firm in New England, has promoted Bill Carpenter to interiors director of preconstruction and estimating. Carpenter has 20 years of experience in estimating and analyzing costs associated with new construction and renovation projects in the A/E/C industry.
Carpenter joined Columbia in 2005 and has been instrumental in the growth of Columbia's preconstruction team, and has been actively involved with many of Columbia Interiors' complex projects for clients including, Bullhorn, Inc., Harmonix Music Systems, Rapid7, Sonos, and Wayfair LLC.
In his new role as interiors director of preconstruction and estimating, Carpenter is responsible for the oversight of the estimating and preconstruction efforts for the interiors division. Carpenter has vast experience in establishing detailed cost estimates, and a talent for developing logical and reasonable cost estimates focusing on all factors of a project.
"Bill's dedicated work ethic, personality and client-centric approach make him the perfect candidate to manage our interiors division preconstruction and estimating efforts," said Dave Stodden of Columbia.
"His attention to detail, commitment to mentoring, and continued adoption of the latest technology has created an environment that proves to be a differentiator for Columbia Construction," adds Mr. Stodden.
Columbia Construction Company, headquartered in North Reading, is known for its high level of client service and project management expertise. With an annual volume of over $260 million, Columbia ranks among the top 10 largest construction firms in Massachusetts. Founded in 1925, it has a diverse portfolio spanning the academic, corporate, life sciences, healthcare and hospitality markets throughout the Northeast.