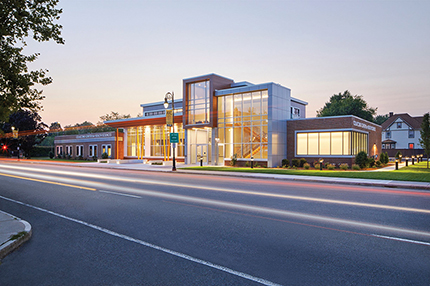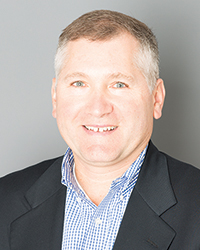 June 11th, 2019 marks 10 years in business for Phase Zero Design. As we reach this momentous milestone, it's a good time to reflect on just how far we have come. 10 years ago, Phase Zero Design came to fruition in Matt Wittmer and my home offices. With a small office opened in Rocky Hill, Conn. and just one employee, the firm was born. In 2009, the economy was shaky at best. Luckily, a few of our core clients came with us when we chose to open shop to help us grow, like Winstanley Enterprises, BCBG MAXAZRIA and Harry and David. From the very beginning, our firm had one goal in mind – provide the absolute best service for our clients.
We still remember constantly pressing the 'send and receive' button on Outlook as we awaited responses to our first grassroots marketing campaign. Not too long after that campaign, people started to know Phase Zero Design. As our following grew, our team expanded and the projects came rolling in.
How different it is today with over 170 clients and no sign of slowing down, we have established ourselves as one of the leading architectural and interior design firms in New England. Since the beginning, Phase Zero Design has brought a refreshing presence into the world of architectural design through our client-centric approach and mission. Founded on the simple premise that crafting a unique design experience is about you, not us, our focus is to be solutions-based to ensure that our clients feel their ideas are heard and their objectives are achieved. With offices now in Hingham, Mass. and Simsbury, Conn., we have created a culture of entrepreneurial-minded, creative problem solvers with an incomparable ambition for greatness. The Phase Zero Design team has grown exponentially over the last 10 years, going from just one employee to now more than 40, and each and every employee brings something unique to the table. We think differently here and are always pushing for innovation in design. Most importantly, we think about our clients and turn their visions into reality. Where everyone else starts at the beginning of the architecture process, we go beyond that; at Phase Zero Design, we begin before the beginning. We get it, and we get it right from the start.
The firm has significant depth of experience specializing in six different market sectors: academic, workplace, retail, residential, hospitality and most recently welcoming the cannabis sector into the firm. Retail is the backbone of our business, which has allowed us to enter most market sectors. Everything is transactional. Whether an academic library, a restaurant or a cannabis dispensary, the firm understands the customer experience and how to make an impact while maintaining our clients' vision.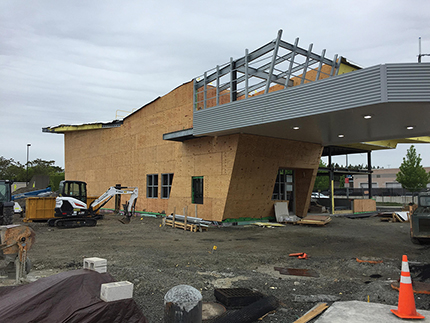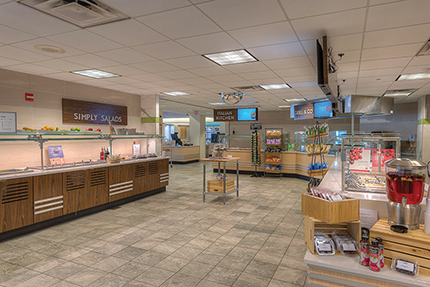 Although every project is as important and valuable to us as the next, there have been some notable projects undertaken that really pushed us to where we are today. In 2010, our team began working with Compass Group North America - a leading food service provider - which led us to designing cafés, dining commons and kiosks for some of the most prominent academic institutions and healthcare providers in the country. In 2014, our firm established its relationship with American International College completing the dining commons, and most recently completed the design for the Colaccino Center for Health Sciences, which sits prominently on State St. in Springfield. In 2016, our team worked with Alexandria Real Estate and William Kovel to design Catalyst Café on Binney St. in Cambridge, the sister restaurant to Kovel's Catalyst Restaurant. In 2018, the firm was selected as the designer for Nouria Energy's Logan Airport Fueling Station. Currently under construction, the filling station will be the main fueling station for Logan with local Meriden Market and a Starbucks nestled inside.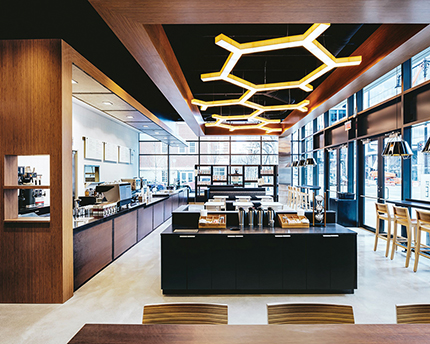 With 10 years under our wing, we are just getting started here at Phase Zero Design. Wittmer likes to use the term 'blessed' to describe his feelings about the growth and success of the firm. He explains, "it's not luck—Phase Zero Design is very fortunate to have such hardworking people on our team to lead this company to success." Success is inevitable when you put talented people together and let them do what they do best. From humble beginnings to becoming one of the most reputable and fast-growing architectural design firms in the New England area, Phase Zero Design has not taken one day over the last 10 years for granted. We believe that designing your next project should be easy and fun. It should leave you feeling like someone's got your back and cares about your project just as much as you do. Every day is a new challenge in this line of work, but it's one that we take on with a smile; we love what we do and we love where we do it.
We don't know what the next 10 years will bring, but we can promise the same level of commitment and service that has come to define our business and reputation today. Thank you to everyone who has been a part of our success, we truly appreciate your support and we very much look forward to another successful 10 years!
Jim Kimball Jr., AIA, NCARB is a co-founding principal of Phase Zero Design, Hingham, Mass.