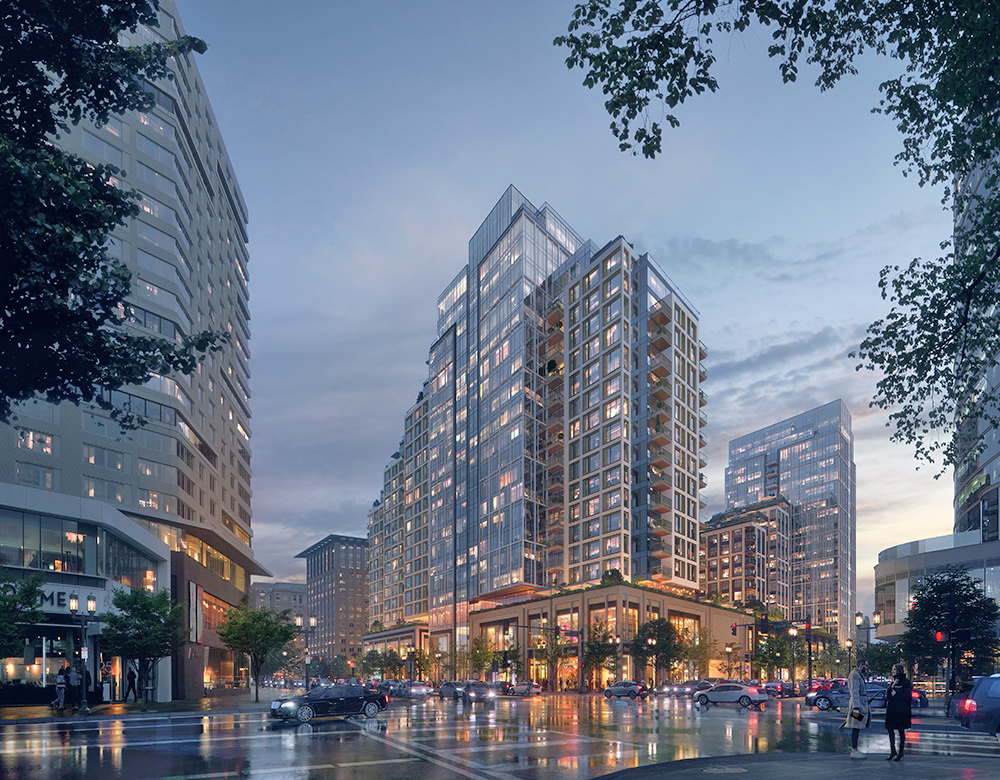 Boston, MA Surrounded by large-scale construction equipment, 200 attendees including governor Charles Baker and mayor Martin Walsh, Cottonwood Management introduced the city and real estate community to Echelon, its new lifestyle concept, in the Seaport.
At the site, previously known as Seaport Sq. Parcels M1&M2, Cottonwood broke ground for its new project and for its new Echelon lifestyle brand with a 1.3 million s/f, three-tower mixed-use development Echelon elevates residential living as a new chapter in the evolution of the Seaport, based upon amenities, residential terraces and outdoor spaces.
Designed by Kohn Pedersen Fox (KPF) and Boston-based CBT Architects, the 3.5 acre development at Seaport Blvd. and B St. has been designed with diverse heights and building materials to reflect the city's eclectic skyline and to create a neighborhood-oriented, active, urban streetscape.
"Boston's Seaport is one of the most exciting neighborhoods in the world right now and is the perfect starting place for Cottonwood to establish the Echelon lifestyle brand," said Alexander Shing, chairman and CEO of Cottonwood. "Echelon Seaport will anchor the Seaport community with a new level of design, service, and lifestyle amenities. Our world-class team is delivering an intelligent approach to an engaged urban lifestyle with the highest standards of quality and design."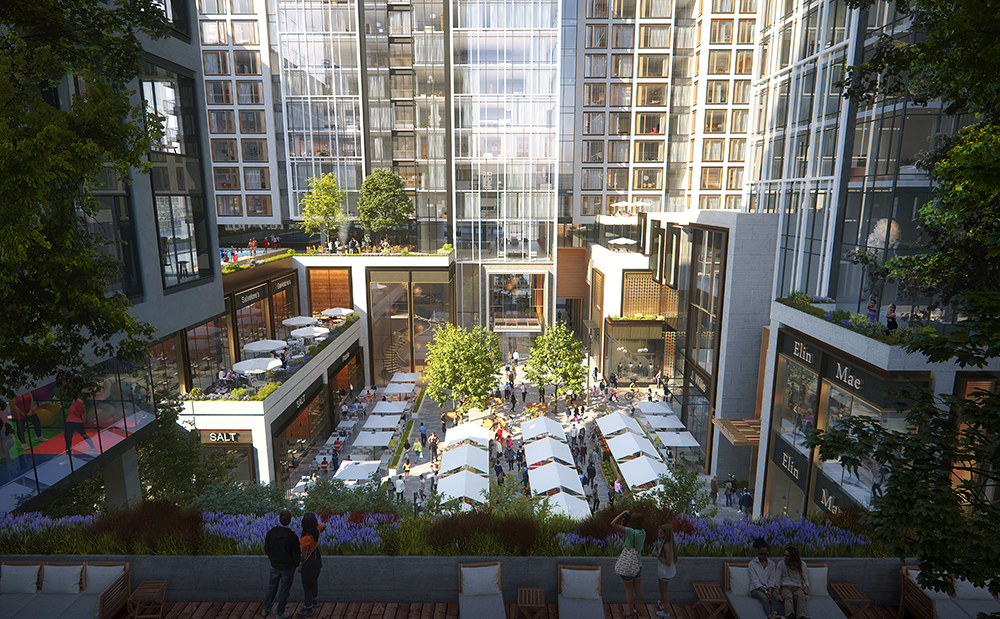 EchelonSeaport is the first installment of Cottonwood's Echelon innovation and luxury lifestyle brand, which will soon include a New York City Echelon-concepted project, located near the Empire State building on Fifth Ave.
With 887,000 s/f of 733 residential condominiums and apartments, EchelonSeaport will feature two outdoor pools, an indoor pool, sun decks, courtyards and oversized private terraces. Answering the call for new distinctive public spaces to shape the path of the future of Seaport, EchelonSeaport's three towers will meet in the middle at a destination piazza, featuring a landmark bridge, outdoor seating on multiple levels, artwork, tree canopies, and more than 125,000 s/f of restaurants and retail lining the multiple passageways and streets leading to the central courtyard.
During their remarks at the groundbreaking, both governor Baker and mayor Walsh noted the Seaport's rise to global prominence, as it continues to attract international brands and investment.
This project is a welcome addition to Massachusetts' global community and the City of Boston's thriving seaport district," said Governor Charlie Baker. "As state and local officials work collaboratively with Cottonwood Management on developing this site over the next several months, we look forward to the positive impact it will have on the community."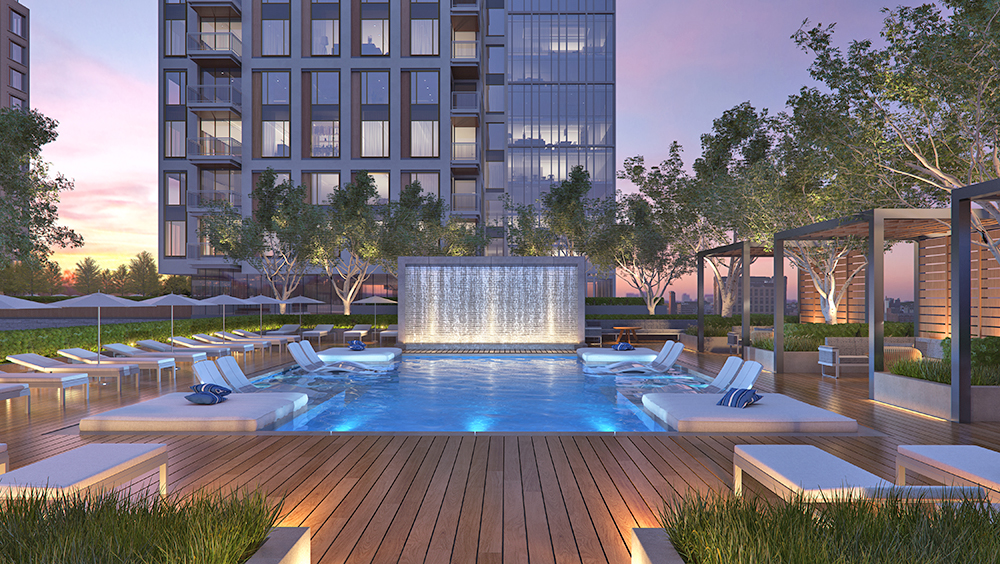 "This project paves the way for more people to see the Seaport as a place to not only work in and visit–but also a place to live in and call home," said mayor Walsh. "I look forward to the Seaport continuing to become an innovative, welcoming neighborhood for all."
The groundbreaking ceremony was followed by a celebratory unveiling of the Echelon vision and brand, complete with an Echelon inspired cocktail and demonstration by chef Ming Tsai, a James Beard award-winning chef and owner of nearby Blue Dragon restaurant.
"It's amazing what the Seaport has done in the past four years Blue Dragon has been open," said Tsai. "We are excited to welcome Cottonwood's EchelonSeaport as both a neighbor and as part of the development of our neighborhood into an international destination."
Residents of the Echelon lifestyle can expect the finest and the most diverse set of residential amenities, which will be announced over coming months as the lifestyle condominium sales center prepares for a fall opening. The condominiums will be branded by the Regent Hotel Group, establishing a premium white-glove level of service for all residents, by a benchmark of five-star luxury hotel service and quality known around the world.
"We have always enjoyed a strong brand presence in the US market as a result of our original properties in New York City, Boston, Chicago, and Beverly Hills," said Steven Pan, chairman of Regent Hotels Group. "We have long intended to return to Regent cities in the US, and are happy to find the right partnership with Cottonwood Management."
"Our design for the project transforms a larger site into a series of three, smaller-scaled towers, where each is given a subtly differentiated architectural character," said James von Klemperer, KPF president and design principal. "The buildings enliven the adjacent streets with active retail, finely crafted details, and smaller scale visual moments of surprise. The central courtyard features several tiers of active programming, resulting in a memorable 'urban village' space, KPF is proud to be a contributor alongside Cottonwood Management and CBT Architects, to the latest addition to the City of Boston."
The building's exterior mixes glass with masonry to reflect the contemporary vision of the master plans as well the character of the neighboring Fort Point Channel. The design is rich in texture and detail, reflecting KPF's expertise in creating new landmarks and innovative, memorable mixed-use developments around the world.
"EchelonSeaport's design honors the Seaport's rich history and expansive future," said Phil Casey, principal at CBT. "In collaboration with KPF Associates, we are honored to help create Cottonwood Management's vision for community by incorporating the Seaport's distinct culture and Harbor surroundings throughout residents' daily experience of space."
The project began pre-construction in March, concurrent with the opening of Cottonwood's new East Coast headquarters office, located at 101 Seaport Blvd., the award-winning new PricewaterhouseCoopers building. 101 Seaport will also be the address of Echelon's upcoming residential lifestyle condominium sales center, which will be led by The Collaborative Companies later this fall.
Headquartered in Los Angeles with offices in Boston and New York, Cottonwood Management is a privately-held real estate asset management and development company with over $2 billion in assets under management. Building on its entrepreneurial, private equity roots, Cottonwood combines in-house structured finance capabilities with operational expertise to unlock the full value of real estate opportunities. Its structured finance and real estate teams are comprised of seasoned private equity, finance, and real estate professionals with national and international expertise in acquisitions, asset management and development. In addition to Los Angeles, Boston and New York, the company manages real estate assets in other major US cities including San Francisco, Seattle, San Jose, Las Vegas, Phoenix and Houston.