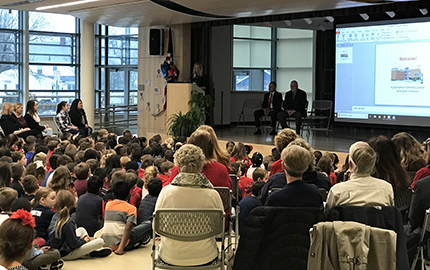 Woburn, MA CTA Construction Managers joined the town, community stakeholders, faculty, staff, and students to celebrate the official dedication of the new Hurld-Wyman Elementary School located at 39 Wyman St.
The 71,000 s/f elementary school is the result of extensive planning and is designed and built to foster a strong sense of community among students. It features nearly two dozen classrooms, art and music spaces, a 6,000 s/f, second story gymnasium, a new library, and a cafeteria. The school also features the latest in green sustainability. It is seeking LEED Silver certification that includes high-efficiency lighting, water and energy systems. On the outside, the school has new athletic fields and green spaces alongside an updated playground with a parking area.
The $35 million project is designed by DiNisco Design partnership, who, with the owner's project manager, Municipal Building Consultants, collaborated with CTA in building this school for the city.
"We are so excited to celebrate the dedication of the new Hurld-Wyman Elementary School – a state-of-the-art facility that is benefiting students and faculty and creating a bright and lively learning environment," said Jeff Hazelwood, principal at CTA Construction.
"We are incredibly proud of this project and know it will serve Woburn students for decades to come."