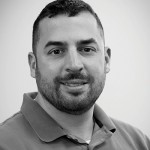 Cambridge, MA Colin Delaney has joined Siena Construction as a project superintendent and assistant project manager. As superintendent, Delaney manages field operations on site, including supervision and evaluation of construction and personnel; he also serves as an assistant project manager, where he coordinates and circulates project information among team members.
Delaney brings a decade of diverse construction-related experience – including as assistant superintendent and resident engineer – to his responsibilities at Siena. During his previous tenure at Suffolk Construction, Delaney helped build large residential apartment complexes, including the Seaport District's Boston Wharf Tower, and Barry's Corner historic redevelopment in Allston. He also previously worked as a resident engineer at Mass. Department of Transportation, with a specialty in bridge rehabilitation.
Siena's president Terrence Hayes strongly believes Delaney's professional priorities and achievements complement Siena's goals.
"Colin is a great addition to our growing team of experienced professionals," Terrence said. "His industry experience and professionalism will be a great fit with Siena's client-first philosophy. I'm excited to welcome Colin to our team."
Delaney holds a many industry certifications and licenses, which include: a Massachusetts Construction Supervisor's License; NHI Bridge Inspector; Engineer in Training; NETTCP Concrete Inspector; and 30-hour OSHA Training. He earned a Master's Degree in Geotechnical Engineering from Northeastern University, and a Bachelor's Degree in Civil Engineering from University of Vermont.
Founded in 1991, Siena Construction is a Cambridge-based full service construction manager and builder. For more information, please visit sienaconstruction.com.