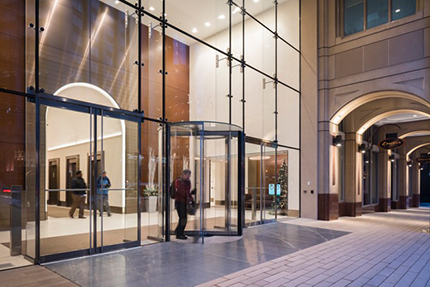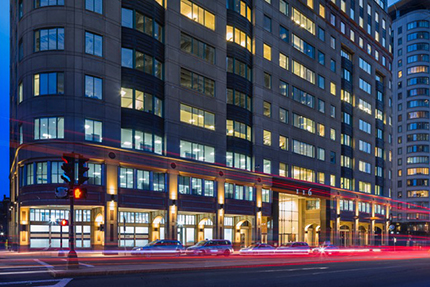 Boston, MA Dyer Brown has completed a major strategic redesign of 116 Huntington Ave., a 271,000 s/f Class-A office building in the Back Bay district. Completed in partnership with project manager Redgate and Shawmut Design and Construction for the client Columbia Property Trust, Dyer Brown's revamp positions 116 Huntington to compete with neighboring properties for the best possible tenants.
With decades of experience designing commercial and office properties, Dyer Brown led the project team to achieve the client's goal: modernizing the 1980s-style architecture to realize a simple, clean image and more effective, appealing workspaces. The project also illustrates the firm's building services offerings, providing larger property management clients with on-call design services for the purpose of optimizing building value and minimizing vacancies.
Key features of the updated 15-story building include dramatic renovations of a two-floor penthouse, installation of two outdoor roof terraces totaling more than 1,500 s/f — exclusively for use by future penthouse tenants — and a transformation of the building's lobby, entrance, and main façade. The penthouse design is particularly notable for its oculus window, one of the hallmark features of 116 Huntington.
"The strategic redesign for 116 Huntington positions our client's asset to compete for prestigious tenants," said Deniz Ferendeci, director of building services at Dyer Brown. "Elements like the penthouse oculus window and the frameless glass façade at the entrance delivers on the promise of raising the property's cachet."
Visitors and tenants to the redesigned 116 Huntington Ave. are greeted by an unimpeded view of the updated lobby through a 25-foot by 25-foot curtain wall of frameless structural glass. Improving the building's curb appeal, this also floods the lobby with natural daylight. Adding to the bold new look are bronze panels and a new exterior lighting system that wraps around the building's first two floors, setting it apart from its neighbors. Inside, the removal of the lobby's arched ceiling, combined with raising the ceiling and adding new, bright finishes, create an airier and more welcoming entry sequence.
Making the best of the building's available natural light was a focus for the entire redesign, not just the lobby. Recapturing interior access to the distinctive oversized oculus window opened up and brightened the penthouse office space, while other design strategies reinforced the views and introduced plentiful daylight.
"The oculus window also provides spectacular views of the city and the Charles River," said Ferendeci. "This distinctive element, along with a potential dedicated elevator bank and the two private terraces, helps to create a vibrant environment for prospective penthouse tenants in a breathtaking, bespoke office environment."
Other notable upgrades include new finishes and flooring for such common areas as elevators, lobbies and corridors, and public restrooms. Surrounded by the Back Bay neighborhood's shopping, hotel, and dining options, 116 Huntington Ave. is also within walking distance of subway and train stations.
"Working on 116 Huntington has been exciting and rewarding," said Ferendeci, "and we're ready to take on whatever is needed to help the client meet their goals. Dyer Brown's building services team is looking forward to continuing our rewarding relationship with Columbia Property Trust."
Recent successes from Dyer Brown's building services studio includes the imaginative design of the two-story, 50,000 s/f Boston offices at 60 State St. for tech company Criteo as well as a new lobby and amenity spaces for Synergy Investments at 10 Post Office Sq. The firm's portfolio also includes highly successful designs for retail and hospitality environments and academic institutions.