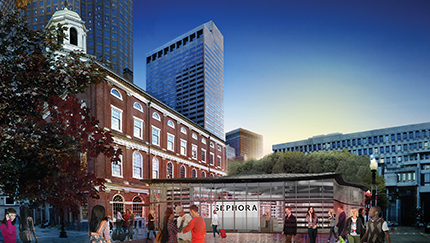 Boston, MA According to Ashkenazy Acquisition Corp. (AAC), owners of the historic destination Faneuil Hall Marketplace, Sephora has opened. The new 5,670 s/f glass pavilion is designed by Elkus Manfredi Architects. It is an integral part of the master plan which was launched by AAC in 2015. Faneuil Hall Marketplace is undergoing a bold transformation of the property that reimagines the experience for visitors and broadens its appeal as an urban oasis.
"Elkus Manfredi Architects has designed a beautiful, welcoming, transparent structure for the north market," said Joe O'Malley, general manager of Faneuil Hall Marketplace. "We are excited about the arrival of Sephora as it fills a void in the retail scene in downtown Boston. Sephora brings a new type of consumer to the marketplace, one of many new initiatives in the near future."
"Elkus Manfredi Architects is proud to be the architect of the new beautiful glass pavilion for Sephora, as well as the architect for the master plan of the new vision for Faneuil Hall Marketplace," said David Manfredi, founding principal of Elkus Manfredi Architects.