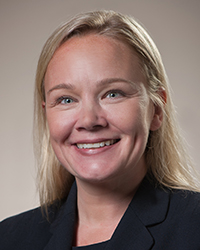 Kristen Fallon, Riemer & Braunstein
Boston, MA Riemer & Braunstein, a law firm that specializes in corporate and real estate finance with offices in Boston, New York and Chicago, has hired Kristen Fallon to its finance practice. Fallon is returning to Boston from Connecticut after taking some time off from practice to raise her four children.
Fallon has over 12 years of experience in the commercial lending field. In her new role as a partner at Riemer & Braunstein, she will be working with large- and medium-sized financial institutions and non-bank lenders, representing them in connection with loans and restructuring of loans for acquisitions, developments, construction, and general financing of real estate.
Fallon was named a Top Corporate Lawyer in Massachusetts by the Women's Business Journal and a New Leader for 2008 by Banker & Tradesman.
"This opportunity with Riemer & Braunstein provides me with a chance to expand my opportunities to participate from the lender's perspective in the exciting growth of the commercial real estate industry," said Fallon. "During my years of practice, I have recognized that Riemer & Braunstein is a preeminent lending firm, and I am excited to join and help continue to grow its practice." 
Fallon has been involved in a multitude of financing transactions for a variety of real estate projects. She has strong ties to regional lenders based on her years of experience.
"Our finance practice has seen steady growth by representing lenders in many of the high-profile major projects in the Boston area," said Stanley Riemer, managing partner at Riemer & Braunstein. "A number of our partners had the opportunity to work with Kristen over the years and know that she will be an excellent fit to maintain and continue to grow our regional presence." 
Fallon graduated with honors from both Boston University School of Law and Boston College and is a Boston-area native.
Riemer & Braunstein was established in Boston in 1933 and has had substantial offices in New York City and Chicago for more than a decade. The firm is best known for its finance practice, most prominently including real estate, asset-based, and high-tech and life science lending and restructurings.