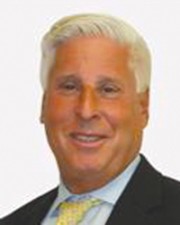 Stratford, CT Lester Fradkoff, senior vice president of Southport-based Angel Commercial, L.L.C., completed the sale of the former Mudrick's TV & Appliances Store located at 1480 Barnum Ave., to O'Reilly Auto Parts for $1.05 million.
"The location is ideal for this national retailer," said Fradkoff, who represented the seller in this transaction. "They will make purchasing auto parts easier and create new job opportunities in Stratford."
A Fortune 500 company, O'Reilly Automotive, headquartered in Springfield, Missouri, is the second largest auto parts retailer in the United States. Operating in more than 4,829 stores in 47 states, O'Reilly Auto Parts provides automotive aftermarket parts, tools, supplies, equipment, and accessories serving both the professional service providers and do-it-yourself customers. The company was founded in 1957 by the O'Reilly family.
Mudrick's TV and Appliances closed its doors last year after 66 years of operating as a successful appliance store. John Mudrick opened the 21,169 s/f retail store on .72 acres in August of 1949. His son, Jack Mudrick, took over the store in the late 1960's. "We had worked long and hard for over six decades serving customers in Stratford with low prices on appliances and top notch customer service," said Jack Mudrick, who is now enjoying retirement. "It was time to put down the phone and pick up the fishing reel."
Angel Commercial is a full-service real estate brokerage firm headquartered in Fairfield County. The company specializes in the acquisition, disposition, and leasing of office, industrial, multifamily and retail properties on a local and national level.