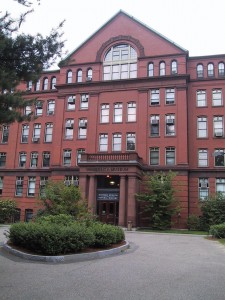 Harvard Museum of Natural History, 26 Oxford Street - Cambridge, MA
Cambridge, MA South Coast Improvement Company (SCI), a design-build general contractor serving New England and the Mid-Atlantic states, was recently awarded renovation projects at the Harvard Museum of Natural History at 26 Oxford St. on the campus of Harvard University.
The projects will feature the creation of student suites within the open space in the Comparative Zoology section of the museum. Each suite will include desk/workstation with data links and updated furniture.
The other renovation will involve converting open space in Suite B23 into office space for museum staff.
South Coast Improvement Company began renovations on February 1 with a completion date anticipated in the spring. The two renovation projects cost a total of $600,000.
"The goal of renovations at educational and institutional facilities like the Natural History Museum is to create an exceptional final product and cause minimal disruption to staff and students in the process," said Tom Quinlan, president of South Coast Improvement Company. "Fortunately, we have a lot of experience with these kinds of projects and we can't wait to get going."
Some recent South Coast Improvement projects at schools and universities include work at Milton Academy, Boston College and MIT.
Based in Marion, Mass. and with an office in Reading, Penns., South Coast Improvement is a recognized leader in providing building and renovation services to a client base of institutional, senior living, healthcare, and retail clients. South Coast Improvement offers a range of design, construction and management services across a variety of sectors—interiors as well as exteriors—including office buildings, health care facilities, educational institutions, commercial properties, assisted living facilities, and residential communities. 
South Coast Improvement's services include: preconstruction analysis; construction management; general contracting; design/build services; capital improvement; building envelope improvements; and interior renovations.