Boston, MA Holliday Fenoglio Fowler, L.P. (HFF) has arranged financing totaling $58.7 million for the development of 110 Broad St., a 36-unit, luxury residential condominium development to be built along the Rose Kennedy Greenway in the city's Financial District.
HFF worked on behalf of the borrower, New Boston Ventures, to secure a $46 million fixed-rate construction loan through East Boston Savings Bank and $12.7 million in subordinate financing from Canyon Partners Real Estate LLC.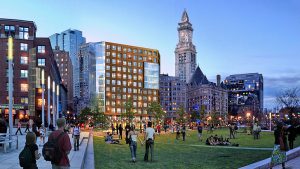 110 Broad Street - Boston, MA
Boulevard on the Greenway (Boulevard), will consist of 12 stories featuring 36 for-sale residential units, 3,550 s/f of ground floor retail space and 48 below-grade parking spaces. Designed by award-winning architectural firm, Finegold Alexander + Associates, Boulevard will showcase one, two and three-bedroom units averaging 1,774 s/f each, with five units on the second floor designated as artist live/work studios. Additionally, there will be three exclusive penthouse units on the 11th and 12th floors with an average size of 3,941 s/f, and an exclusive residents' lounge.
The property's location overlooking the Rose Kennedy Greenway places it at the nexus of the Financial District within a block of the waterfront, walking distance of virtually all means of public transportation, and provides residents with immediate access to the Southeast Expressway (I-93) and the Mass. Tpke. (I-90).
The HFF debt placement team representing the borrower was led by director Brett Paulsrud.
"Boulevard is a unique opportunity for condo dwellers to live adjacent to the most desirable stretch of the Greenway in a newly constructed, boutique luxury building. Traditionally, such living along the Greenway has only been available in larger, more dated buildings and in small traditional walk-ups in the North End," said Paulsrud. "The property will combine excellent views of the Greenway and waterfront with an unrivaled amenity base. Boulevard will be met with exceptional buyer demand."