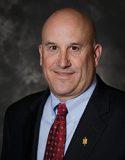 The New England Region Boston Chapter 4, Connecticut Chapter 51 and Rhode Island Chapter 88 hosted their 2nd annual NECT17 Tradeshow and Conference at the Mystic Marriott, Groton Conn.
We had 200 people in attendance. The session were very well attended and we received many compliments on the event.
The chapters had many vendors, members and real estate professionals in attendance. Another great event by the New England chapters IREM Region 1
The chapters had the great pleasure to install four new members:
Connecticut Chapter 51
• ARM's Rebecca Hernandez, Hallkeen Mgmt.; and Brain Tenenbaum, Picerne Real Estate Group
• CPM Joseph Paul Fazekas, MCR Property Management Inc.
Boston Chapter 4
• CPM Sean Flinn
4 Education | Sessions and 1 Keynote Speaker
Managers spoke on all the aspect of property management housing authority, R.I., and Mass.
Frank Flynn, Esq. The Flynn Law Group spoke on the maintenance session, about liability for non-responsive maintenance.
A session on everything you always wanted to know about landlord-tenant law and were afraid to ask was presented by Turk & Quijano, LLP
Secure Future Tech Solutions spoke to the members on securing there properties.
The keynote speaker was Kay Wilson, Esq. Wilson is an executive coach, motivational speaker, Huff Post blogger and founder of the Maverick Leadership Institute. Wilson's body of work is dedicated to the positive evolution of power dynamics in leadership. Her innovative coaching programs include Charm School for Mavericks, Women Power & Influence and Motivation & Self Mastery.
Special thank you to all the booth sponsors and event sponsors:
Grand Prize Donated by ServiceMaster by Gilmore.
Breakfast Sponsors:
• Norfolk Company; and
• The Best Answering Service, New England In Touch
Education | Session Sponsors:
• The Flynn Law Group
• Secure Future Tech Solutions
• Zillow Group
• Turk & Quijano, LLP
Registration Sponsor:
• CoStar Group
Beverage Sponsor:
• Trinity Management LLC
Booth Sponsors:
• IREM
• MD Weaver
• Automatic Laundry
• CoStar Group/ Apartment.com
• AB Supply
• RentPath Network
• Belfor Property Restoration
• The Flynn Law Group
• Secure Future Tech
• Zillow
• Turk & Quijano LLP
• HEIT
• Enviro Clean Restore
• Right Source Compliance
• 24 Restore NE
• Corelogic
• Power Pro Ipad Leasing
• HD Supply
• The Blue Book
• Professional Loss Adjusters Inc.
•Precision Concrete
• Eagle Rivet Roofing
• ProGroup Contracting
•Norfolk Companies
• Water Hero Inc.
• Best Answering Service
• ARS Restoration Specialist
Peter Lewis, CPM is the 2017 president of the IREM Boston Metropolitan Chapter #4 and is vice president, property management for The Schochet Cos., AMO, Braintree, Mass.