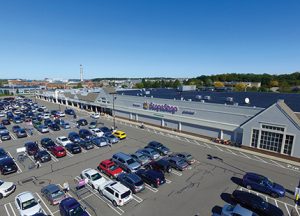 Lincoln Plaza - Hingham, MA
Hingham, MA NGKF Capital Markets has completed the sale of Lincoln Plaza for an undisclosed price. Executive managing director Geoffrey Millerd, managing director Justin Smith and associate directors Paul Penman and Matthew Waisnor of the NGKF Capital Markets Boston team, which is led by U.S. Head of Capital Markets Robert Griffin, oversaw the transaction of the grocery-anchored shopping center on behalf of the trustees of Curtlo LLC.
In addition to the asset's 68,087 s/f Stop & Shop anchor, Lincoln Plaza also features a 31,882 s/f Marshalls. Together, these high-performing stores anchor a diverse tenant roster highlighted by national, regional and local retailers with two freestanding pads occupied by 99 Restaurant & Pub and Rockland Trust.
"Stop & Shop's store at Lincoln Plaza is one of its top-producing stores in Massachusetts, which certainly helped drive institutional interest from the investment community," said Smith. "The regionally-dominant grocer is headquartered just 4.5 miles away in Quincy, which makes this store a highly-coveted location for Stop & Shop."
"By virtue of its location in the affluent South Shore, Hingham is one of the most desirable residential communities in the region," said Millerd. "Situated immediately across from the Hingham Shipyard, Lincoln Plaza boasts an exceptional location within this community, benefiting from significant daily traffic."