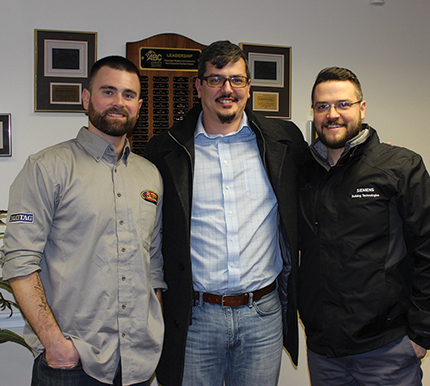 Concord, NH The Associated Builders and Contractors New Hampshire and Vermont Chapter's Young Professionals Group (ABC YPG) welcomed three new members onto the ABC YPG Steering Committee.
Rick Baron, project manager at Al Terry Plumbing and Heating, Inc.; Joel Pickering, project executive at Denron Plumbing and HVAC, LLC; and Sean Roukey, account executive at Siemens Building Technologies were all voted onto the Steering Committee at the ABC 2019 board of directors Strategic Planning Retreat.
The Steering Committee also established their 2019 officers at the Planning Retreat, voting Jeff Comeau of Specialty Services of New England into his second year as chairman; Katie Lopes of North Branch Construction as vice chairman; Nina Ann Timney from Al Terry Plumbing and Heating, Inc. as treasurer; and Matthew Burrows of Gallagher, Callahan, & Gartrell PC into his second year as secretary.
Founded in 2012 as an initiative of ABC NH/VT, the ABC YPG's mission is to develop, empower, and connect young professionals through networking events, educational workshops, and volunteering opportunities in an effort to enhance their professional development and business success within the construction industry.