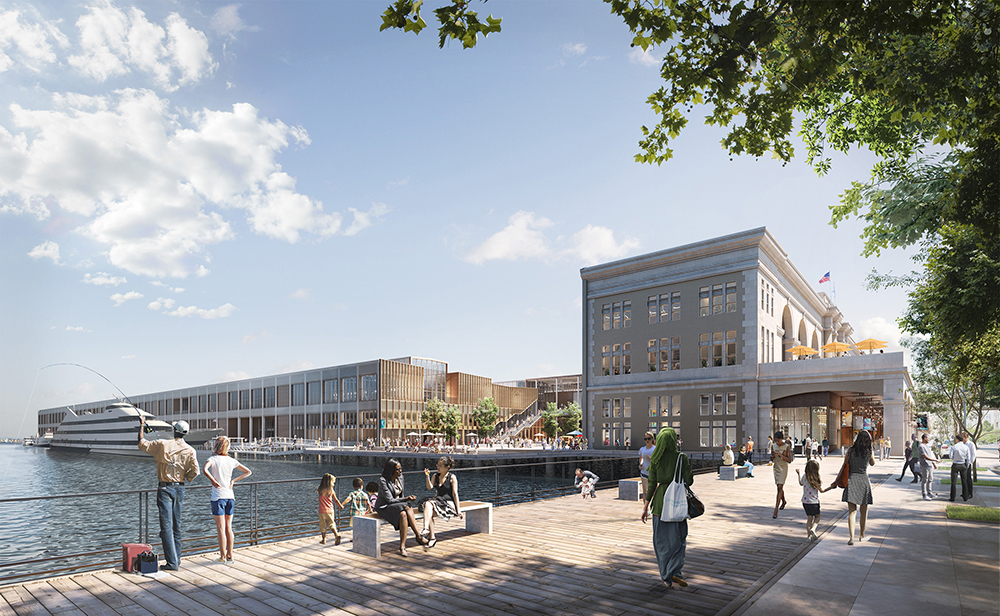 Boston, MA Pembroke, the international real estate business, developer and an original pioneer in the city's Seaport District, has plans for the revitalization of the Seaport World Trade Center on Commonwealth Pier.
The multi-year project will transform and rejuvenate the 705,000 s/f building and pier with new amenities for greater public access to the waterfront, retail offerings, event spaces, and a unique and flexible workplace for the Fidelity Investments employees that will occupy 100% of the office space.
Through infrastructure investment, the project will enhance its current uses by replacing the existing Commonwealth Hall to allow for more accessible and relevant waterfront public amenities, and provide 163,500 s/f of new and enhanced outdoor public space. It will include:
• Improved public access to the waterfront with apron extensions on either side of the Headhouse;
• An enhanced Harborwalk equipped with landscaping, multiple niche spaces cut out of the perimeter of the building, new lighting, site furnishings, signage and connectivity to retail, and food and beverage spaces;
• A 25,000 s/f new public plaza adjacent to the waterfront designed to accommodate outdoor events, open markets and year-round activities;
• 45,000 s/f of diverse new retail and food and beverage offerings along Seaport Blvd. and across the upper and ground floors of the iconic Headhouse structure. Access to retail offerings, terraces, plaza views and event offerings on the viaduct will be provided through a public lobby located centrally within the Headhouse;
• Enhanced pedestrian experience along Seaport Blvd. with new street-front retail, widened sidewalks, and improved connectivity to the upper level of the Seaport World Trade Center;
• Loading docks along Seaport Blvd. will be removed to provide better pedestrian access and circulation through the public spaces;
• Preserved and protected existing maritime uses;
• More flexible and collaborative office experiences with increased natural light and views, and large interior courtyards;
• New Seaport Hotel conference and event facilities;
• Enhanced site resiliency measures to meet the challenges anticipated from rising tides and storm intensity; and
• Best practices for sustainability and wellness for occupants and visitors with green roofs covering portions of the building, and modernized and energy-efficient building systems for a targeted LEED Gold rating.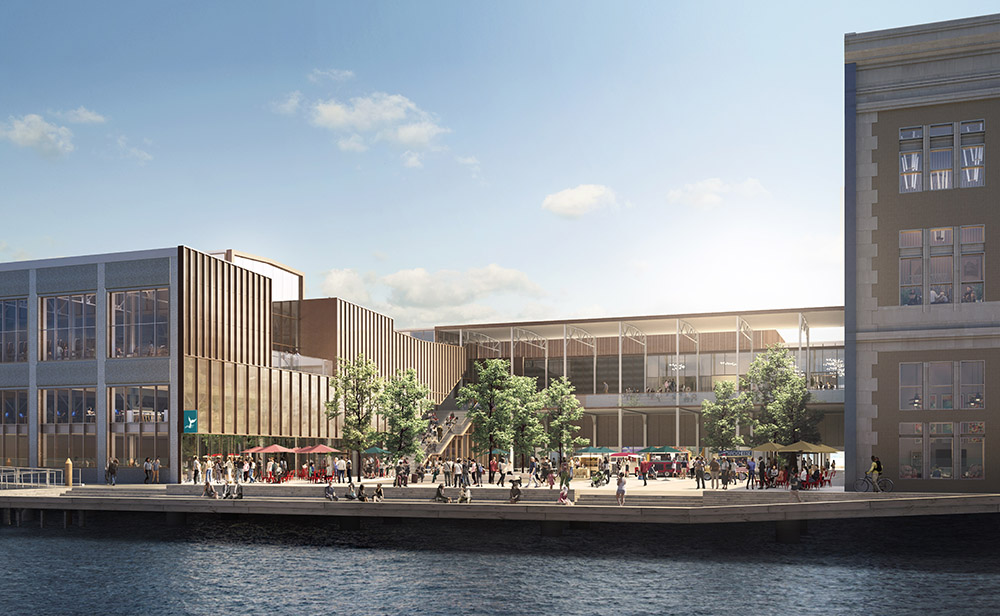 Pembroke has met with state and local officials, and worked closely with Massport, which owns the land on which the Seaport World Trade Center sits. While transformative in nature, the project will not add substantial density or height, will continue to respect its historic origins, including its mercantile and waterfront roots, and is anticipated to complement the Seaport District's continued growth and evolution.
Construction is expected to begin in early 2020 with full occupancy expected by 2024. Pembroke is drawing upon the design expertise of CBT in collaboration with Schmidt Hammer Lassen. Landscape architect Sasaki is collaborating on designs for the enhanced Harborwalk and other exterior elements.
With international presence and local insight, Pembroke has a special understanding of city real estate. Its Boston portfolio includes Seaport Place, and 255 State St., a signature class A, mixed-use building overlooking the Harbor and Rose Kennedy Greenway. On behalf of its investors, Pembroke has developed 4.5 million s/f globally, including the extensively renovated T&G Building in Melbourne which completed in 2018, and 4 Cannon St. in London which recently achieved practical completion.
Pembroke filed a Letter of Intent (LOI) to revitalize the Seaport World Trade Center with the Boston Planning & Development Agency (BPDA) in December and has publicly filed its project plan with the BPDA.
Edward Johnson, president of Pembroke, said, "Fidelity and Pembroke have a long history in the Seaport and we've seen firsthand our vision become reality as its evolved into one of Boston's most desirable destinations. We're excited for the opportunity to reintroduce Commonwealth Pier as a unique new waterfront experience offering relevant and diverse public amenities, improved accessibility to the harbor and along Seaport Boulevard, and enhanced site resiliency and flexible design solutions to meet the challenges of climate change."
The project aligns with Fidelity's focus on transforming its workplaces across the enterprise, creating workspace that strengthens its culture of vitality and collaboration, builds a more connected community, and drives creativity and innovation.
Alicia Sundberg, head of real estate at Fidelity said, "We are excited about the many ways that the Commonwealth Pier revitalization aligns with our vision to deliver environments that allow our employees and customers to thrive. By creating such a setting at the Seaport World Trade Center, our hope is employees will continue to collaborate and innovate even more fully in new and exciting ways to bring the best products and services to market for the benefit of our customers."