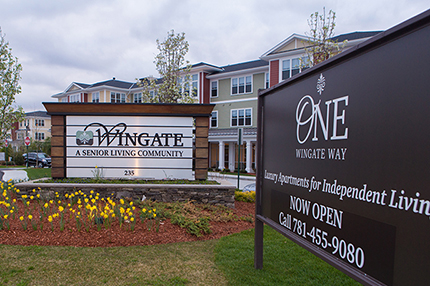 Needham, MA Callahan Construction Managers (Callahan) has completed its second senior housing project with Wingate Healthcare.
The facility is located adjacent to Wingate Residences; Wingate's existing assisted living facility off Rte. 95 on Highland Ave. One Wingate Way serves as an addition to the Wingate Residences and completes the existing campus known as Wingate at Needham. This final phase consists of a three-story steel and wood frame building that includes an 8,000 s/f basement with 81,494 s/f of gross living space.
One Wingate Way is designed for independent living with 52 units ranging between one- and two-bedrooms and varying in size from 715 to 1,036 square feet. In addition to residential units, the project also includes an aquatic center, demonstration kitchen, dining facilities, a fitness room, yoga and meditation room, spa, bistro, library, theater, offices, card room, public gathering areas, exterior patios and courtyards.
Working in collaboration with The Architectural Team, construction on the assisted living property began in December 2015 and was completed in March 2017.
"We are proud to continue our longstanding relationship with Wingate Healthcare and support their mission in providing exceptional facilities to residents in the region," said Patrick Callahan, president of Callahan Construction Managers.
The completion of this property follows an ongoing partnership between Callahan and Wingate Healthcare, where Callahan has completed both Phases II and III of Wingate at Needham. In addition, Callahan will also provide construction management services for the upcoming Wingate Residences at Haverhill.
"We are very pleased with the outcome of our newest senior living project known as One Wingate Way," said David Feldman, vice president of real estate for Wingate Healthcare. "The Callahan team did a terrific job completing this project on an extremely challenging site with tight access, poor soil conditions and taking care not to disrupt existing operations. We look forward to continuing our relationship on our next project in Haverhill."