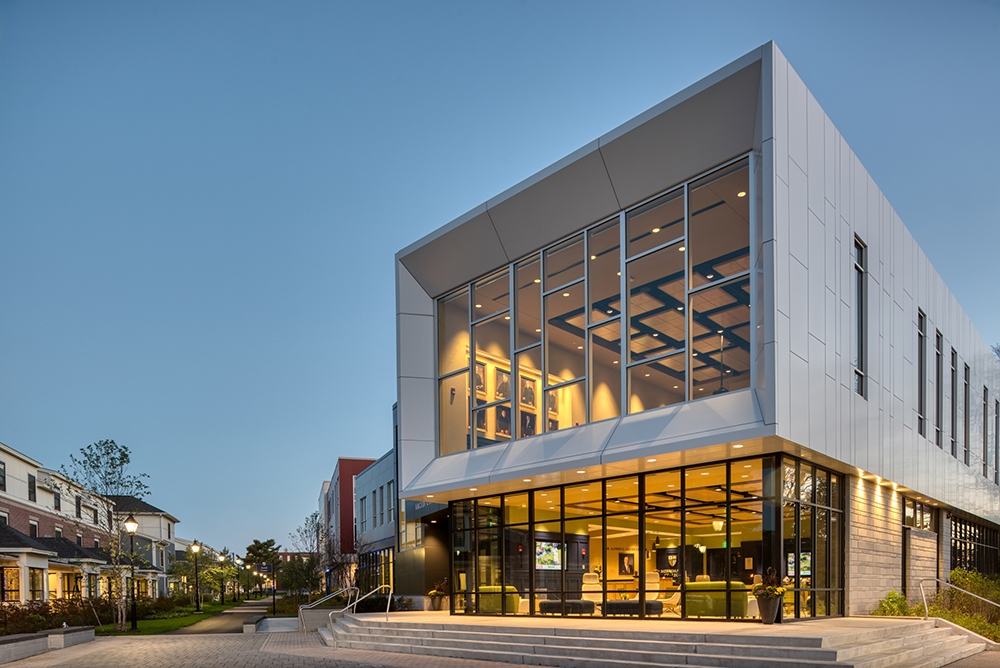 North Andover, MA In September, Merrimack College opened the Dr. Alfred L. Arcidi Center - the latest addition to its growing campus. PROCON was the architect of record for the project in collaboration with DSK Architecture, who is actively engaged in the master planning of the campus.
The 16,000 s/f, two-story building is located at 315 Turnpike St. The center opened in time for the 2017/18 academic year welcoming incoming freshman and the returning student body. Named for the late Dr. Alfred Arcidi, class of '53, the center houses admissions counselors for undergraduate and graduate students, creating a new gateway to the campus that will be the first stop for thousands of potential students and parents.
The center serves as a campus landmark with a glass front that houses the College's Visitor Center and the O'Brien Center for Student Success. The design team conceived a structure with floor-to-ceiling windows flooding the interior spaces with light for an open concept feeling which was carried into wide stairways and halls. Warm and inviting colors are mingled throughout the interior design. Key features include nine interview/advising rooms, administrative offices, a student interview preparation space, a boardroom and five conference rooms. An 1,100 s/f presentation room is also available for groups to assemble and learn about the college.
This is PROCON's 11th collaboration with Merrimack College, whose recent projects include the North and South Residential Villages as well as the adjacent Crowe Hall that opened in 2017. In fact, as work on Crowe Hall concluded, plans were already underway to begin work on the center. In reference to their partnership, Felipe Schwarz, Merrimack College associate vice president, said, "Having a firm that can come in and react to what we are thinking about and carry that into implementation almost immediately is valuable."
React and implement was exactly how PROCON responded to the college's request for a building combining utility with visual interest in keeping with their Augustinian traditions of advancing community scholarship and service in the pursuit of knowledge. College president Dr. Christopher Hopey called it "the door for our students to enter into the wider world and the map that their future path holds."
It is a unique time in the College's history as they lay the groundwork for a new generation of Merrimack students to visit, explore and develop an understanding of what the College offers. The Arcidi Center galvanizes the college's vision as a home base for admission, tours, corporate and employer visits, as well as being a prominent point of reference for visitors to the campus.
"As the college's student population rapidly grows, the center helps to optimize their enrollment processes for the best possible 'introduction' to the campus" said Dr. Hopey.