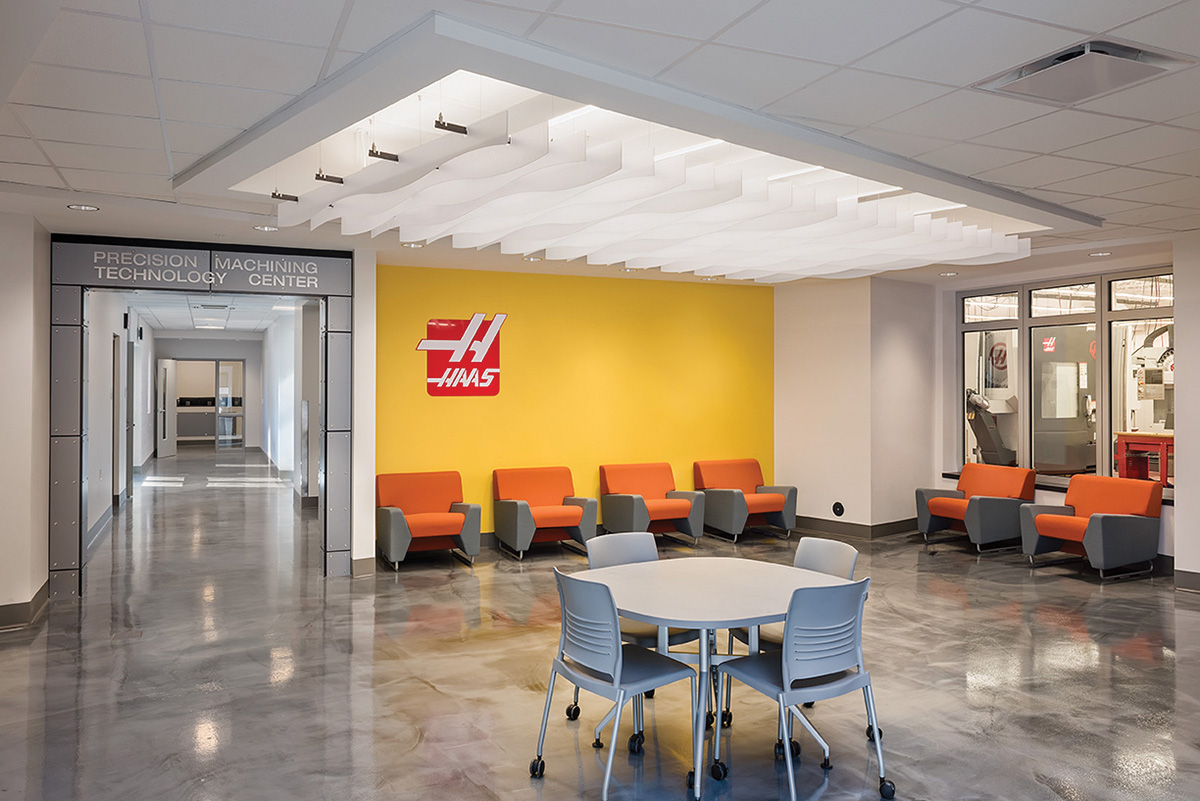 Auburn, ME The Gene Haas Precision Machining Technology Center has recently opened on the campus of Central Maine Community College (CMCC). Designed by Harriman, the 8,000 s/f addition creates a premier model facility showcasing the college's expansion of its award winning program. The new design integrates the advanced manufacturing laboratory with associated classrooms, offices, quality control facility, computer lab, and gathering spaces.
Harriman's electrical engineers worked with the architects to enhance the building's electrical infrastructure. The existing 120/208V and 277/480V bus ducts were expanded to serve their new precision machine layout. With about 60 pieces of large equipment and a receptacle to serve each, load balancing and locating over 100 cords to the various pieces of equipment was a challenging process.
The design reflects the work and materials used within the program. Stainless steel panels, exposed fasteners, interior windows, suspended celling baffles and visible building utilities create a modern industrial feel.
A breakout area was designed to connect the machine shop and the quality control room, and the transom glass allows the students, faculty and visitors to see the shop area, allowing the school to showcase its equipment and student talents.
Mark Lee, principal and project architect at Harriman calls the new lab, "A great maker space, and a highly functional lab that showcases one of the regions premier manufacturing programs. It will support the needs of CMCC students and industry for years to come."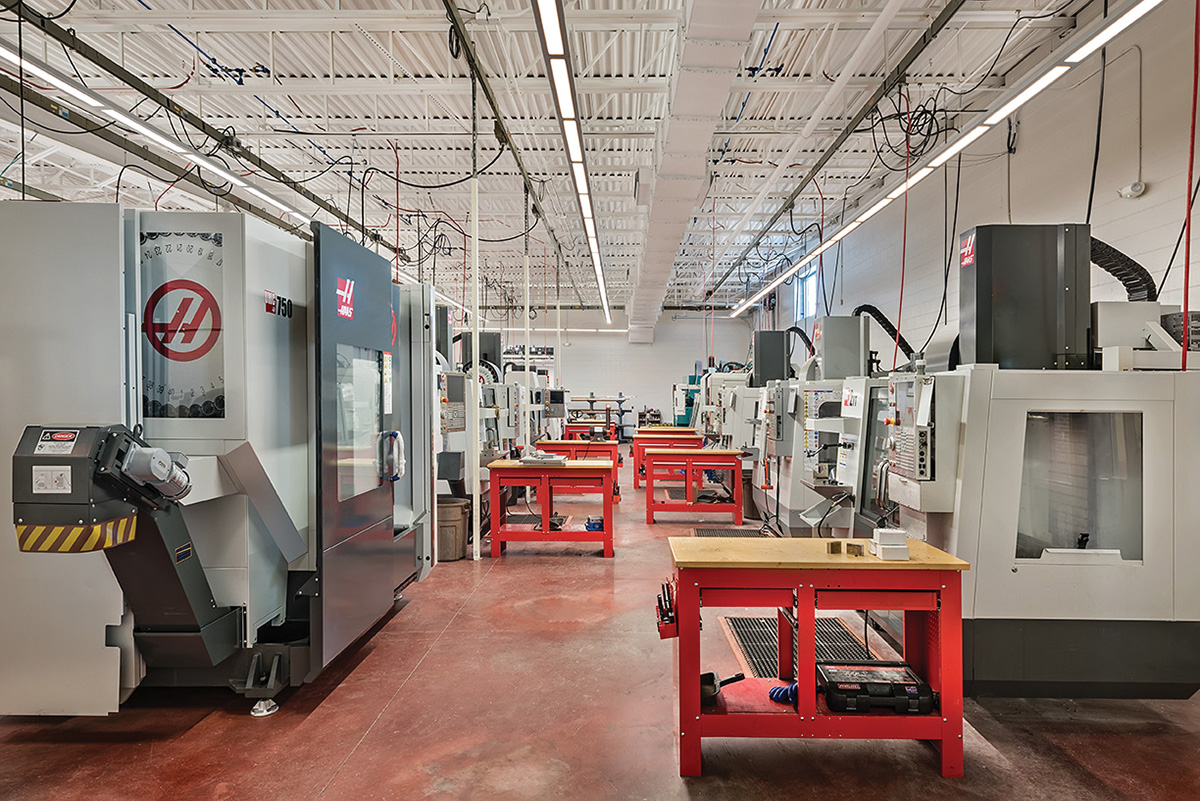 The new facility was named the Gene Haas Precision Machining Technology Center, in recognition of a $1 million grant from Gene Haas. Additional funding was provided by two grants totaling $2.3 million from the National Science Foundation. These grants were part of the federal government's investment in Maine to help boost the state's economy.
CMCC's precision machining program is one of the largest in the Northeast. It operates year-round to accommodate students and businesses. Companies use the facility for employee training, product development and access to specialized equipment. The expansion project at CMCC is a timely one, given that area companies expect to need 900 new precision machining workers in the next five years.
Graduates of precision machining technology work as machine operators, machinists, tool and die makers, quality control inspectors, machine assemblers, machine tool designers, program or field services representatives, according to the college.
According to CMCC president, Dr. Scott Knapp, "This is an important industry in our local economy, and having skilled machine programmers helps manufacturers reduce down time, save money, and bid for quality work."
"Since 2010, CMCC has provided customized training to 34 businesses and 626 employees. The college is advancing the skills of machinists in the regional workforce, allowing local companies to be more competitive," Knapp said.