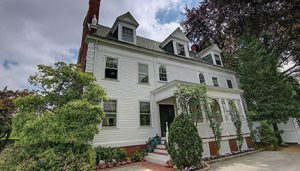 49 Orchard Avenue - Providence, RI
Providence, RI Residential Properties Ltd. (RPL) sold 49 Orchard Ave. for $975,000. RPL represented both sides of the transaction, with Jim DeRentis acting as the listing agent, and Rebecca Mayer as the selling agent.
Built in 1895 by George F. Hall of the renowned Providence-based architectural firm of Martin & Hall, this historic property was constructed as his personal residence.
Residential Properties Ltd. is the largest privately held real estate company in Rhode Island and has been serving sellers and buyers of distinctive properties since 1981 through service, innovation, and sheer hard work.  The company, with five offices located in Barrington, Cumberland, East Greenwich, Narragansett and Providence, services all of Rhode Island, the Connecticut shoreline and southeastern and central Massachusetts.