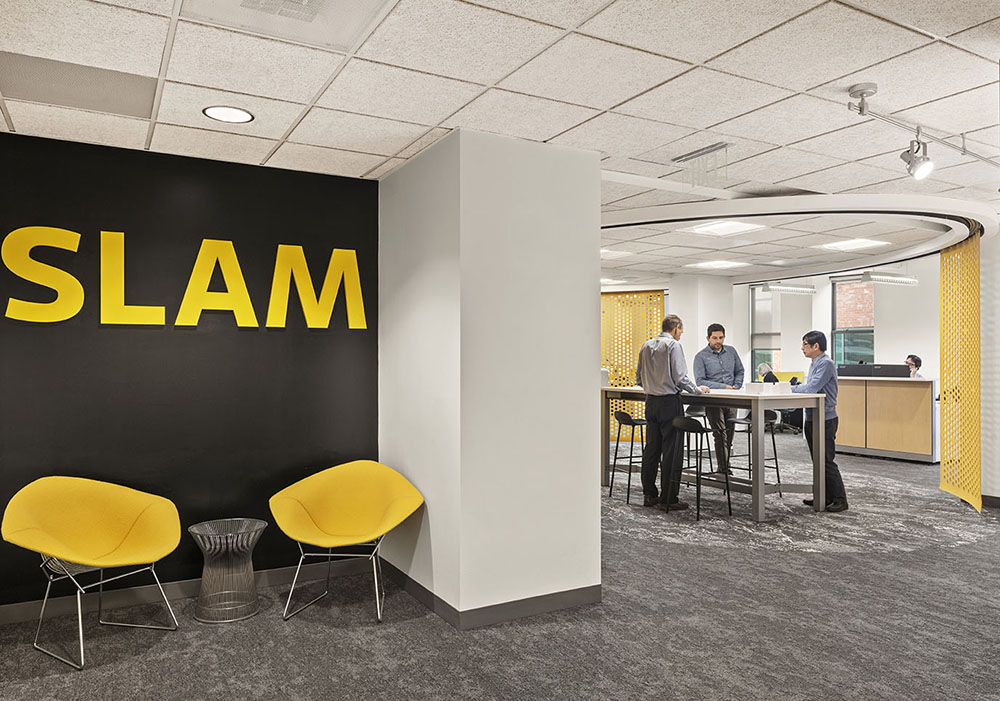 Boston, MA Nationally ranked architectural firm, The S/L/A/M Collaborative (SLAM), with offices in Connecticut, Georgia, Massachusetts, New York and a recent expansion in California, is committed to growth.
Celebrating more than 20 years in the city, SLAM continues to grow across its healthcare, corporate and education practices that currently includes work with the State of Massachusetts - DCAMM on the transformation of Schattuck Hospital as well as other healthcare clients such as UMass Memorial Medical Center and Steward Healthcare. The local team continues to service educational clients from top-tier colleges and universities such as MIT, University of Michigan, Providence College, and Stonehill College, as well as K-12 projects for the Massachusetts School Building Authority.
The recent renovation of the SLAM office on the fourth-floor of 250 Summer St., located in the city's Innovation District, will accommodate up to 40 team members with many opportunities for innovation and creativity. The design team at SLAM created a new and vibrant environment that offers a modern work space designed as a high-tech flex studio, meeting the work habits and creative needs of a blended team of experienced professionals and next generation talent.
The space features a bright and inviting open loft interior, beautiful views of the channel and downtown, a central shared open work area and café. Unique operable screens are integrated in the design to create office neighborhoods and collaborative zones for spontaneous or planned meetings.
SLAM's commitment to Boston is showcased through the installation of new artwork selected from the Boston Art, Inc. gallery by local artist Phillip Spinks. His series "New Histories and Recovering Memories" infuses a playful color palette into the studio.
The space was designed to accommodate planned growth to increase corporate workplace, healthcare, and education market opportunities. "This office has won significant business over the past few years and now are offering greater depth and new levels of architecture right here in the Boston area," said Rick Polvino, AIA, principal, SLAM Boston.
"Our office combines the best location to work in Boston with a studio atmosphere that inspires our designers to innovate and create in meaningful and new ways that continue to benefit our clients," said Neil Martin, AIA, design principal, SLAM Boston.
SLAM is a nationally recognized thought leader in the design of health care, education, corporate workplace and sports facilities. A recent merger with Frank Webb Architects (FWA), an award-winning firm located in Los Angeles marks the progression of SLAM's growth strategy to expand its footprint locally and nationally.
"We are excited to share our passion across all SLAM offices for innovation, technology and creativity and a strong culture rooted in delivering long-term value to clients," said Robert Pulito, president, SLAM. "Our strategy is to increase SLAM's workforce to between 250 and 300 employees over the next few years."