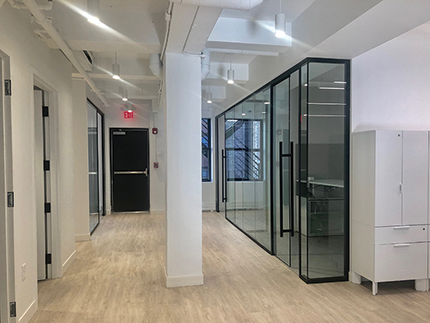 Boston, MA South Coast Improvement Co. (SCI) finished renovation project for 1251 Capital, a financial services holding company, at its new location at 7-9 Newbury St. South Coast Improvement began work on the $467,000 build-out in November and completed the project in December.
Preparing the space for 1251 Capital Group, previously located at 83 Newbury St., involved a mechanical, electrical and plumbing upgrade. The project also called for a number of high-end finishes, including a customized glass wall and doors. The project also featured customized millwork, a new kitchen, bathroom and hospitality bar.
Working with South Coast Improvement on the project were Visnick & Caulfield Associates, Inc as project architect and Allied Consulting Engineering Services, Inc. as project engineer.
"We had previously finished a renovation project at 7-9 Newbury St. for the building's management company, Urban Meritage, so we were familiar with the property. Still a city project can present any number of challenges, particularly one with an aggressive schedule like this one," said Tom Quinlan, president of South Coast Improvement Company. "Through close coordination with the management company, and the tenants in the building, we were able to complete a time-sensitive project while minimizing disruption."