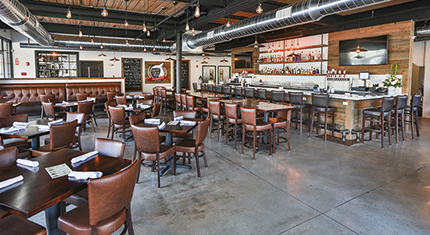 New Bedford, MA The 4,300 s/f Moby Dick Brewing Co., built by South Coast Improvement opened diagonally across the intersection from the New Bedford Whaling Museum at the intersection of Union and Water streets in the city's historic district.
The bistro includes a small retail area for memorabilia, pub-style menu items and a 10-barrel brewery operation behind the bar area. One hundred seats welcome patrons to enjoy hand-crafted brews and simple dishes with a local flair – including salt cod chowder, sweet potato and apple soup and pan-seared scallops. The beers include different references to Herman Melville's epic novel such as Ishm-ale Ale, Stove Boat Dry Irish Stout and Simple Sailor American Lager.
"We are delighted to bring this landmark pub and all its historic texture to the region," said Tom Quinlan, CEO of South Coast. "We enjoyed working closely with the investors to deliver a showcase and tribute the area's salty charms."
The investment team for the $1.3 million project included David Slutz; Maureen Sylvia Armstrong, CEO of the Sylvia Group; Peter Kavanaugh, owner of Brownell Boat Stands and president of La-Z-Boy Furniture Galleries; Richard Lafrance, CEO of Lafrance Hospitality, which operates the New Bedford Fairfield Inn & Suites and White's of Westport, among other hotel and restaurant holdings; and Bob Unger, principal of Unger LeBlanc Inc. Strategic Communications.
Kevin Caldwell, of Caldwell Architectural Associates was the project's architect.
Mayor Jon Mitchell said, "The brewery is another significant addition to the downtown. That is a very prominent corner and this new business will really stand out."