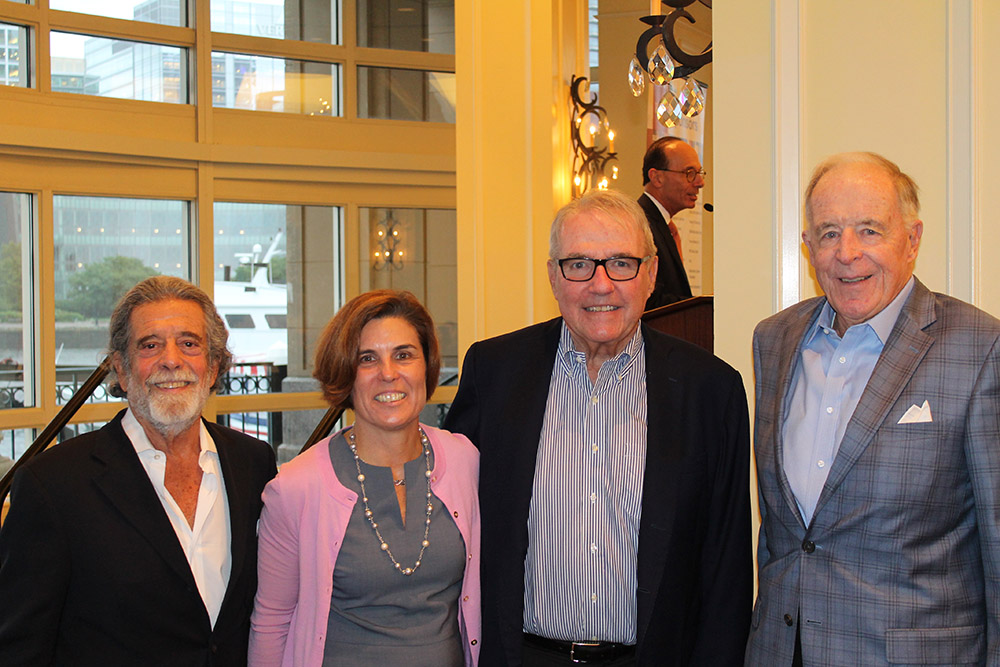 Boston, MA The Annual REFA Fall Conference was held September 28 at the Boston Harbor Hotel with over 170 guests in attendance. The event included a keynote presentation on "Commercial Real Estate: Then, Not and The Future," followed by an in-depth panel discussion on the topic of "Commercial Real Estate Disruptors." The keynote session included moderator Marci Griffith Loeber, managing principal, Griffith Properties. Panelists included: Bill McCall, founder and president, McCall & Almy; John Fowler, executive managing director, HFF and Ronald Druker, president, the Druker Company. The second panel session included moderator Steve Weikal, head of industry & alumni relations at MIT MSRED, MCP '08, MiT Center for Real Estate. Panelists included: Katie Sullivan, founding team, marketing & communications, HqO; Linda MacLeod Fannon IIDA RDI, vice president, Elkus Manfredi Architects and Sarah Travers, CEO, Workbar.
The Real Estate Finance Association held its 30th Annual Gala on October 11 from 5:30 – 9:00 p.m. at the Marriott Copley Place. David Manfredi, CEO and founding principal, Elkus Manfredi Architects and Elizabeth Lowrey, principal, Elkus Manfredi Architects, were awarded with the 2018 Robert S. Swain Jr. award, REFA's Distinguished Service Award. Manfredi and Lowrey join an elite list of past recipients including: Stephen Karp and Steven Fischman of New England Development in 2017, John Drew of the Drew Company in 2016, Bryan Koop of Boston Properties in 2015, Pam Herbst of AEW Capital Management in 2014, mayor Thomas Menino in 2013, and Joe Fallon of the Fallon Company in 2012.
In honoring Manfredi and Lowrey, Elkus Manfredi Architects becomes the first architecture firm to be recognized among a distinguished list of New England based companies.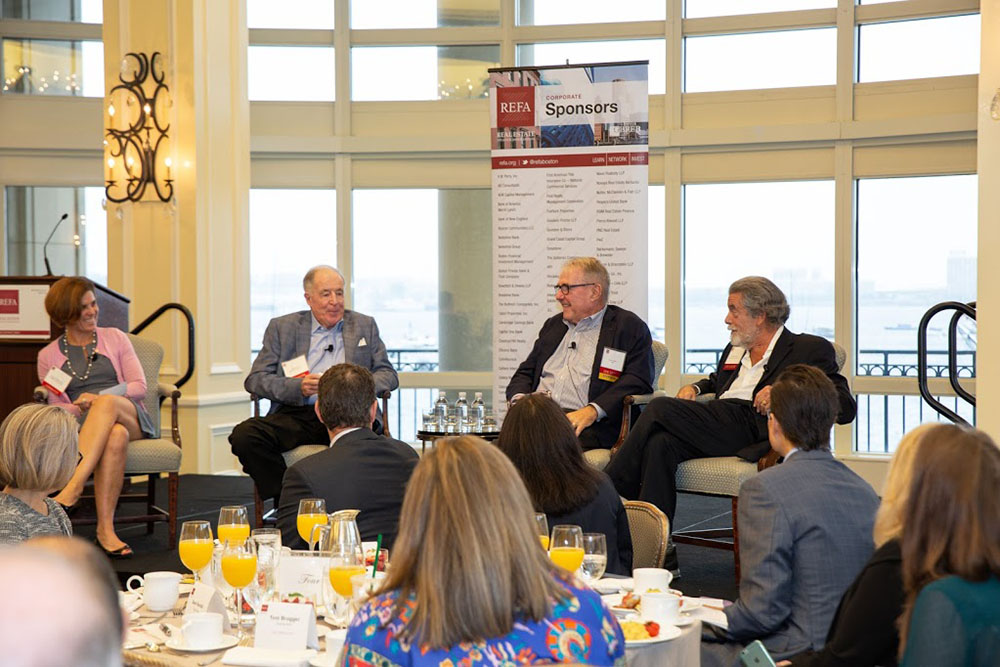 The Rise of Alternative Debt will be the topic of discussion at REFA's October 17 Education Program. Jennifer Keller, senior director with HFF will lead the discussion among speakers Matthew Klein, vice president, CrossHarbor Capital Partners; Adam Gibbons, vice president, The CIM Group; Read Mortimer, senior vice president, debt & equity investments, Rubenstein Partners and Daniel Nagler, SVP, director of capital markets, CC&F. The event will be held at WilmerHale, 60 State St., from 7:45 – 9:15 a.m.
REFA will hold its Fall Women's Leadership event on October 29, featuring keynote motivational speaker Betsy Myers. As a leadership expert, author and advocate, Myers is the founding director of the Center for Women and Business at Bentley University, was previously the executive director of the Center for Public Leadership at Harvard's Kennedy School of Government, was senior adviser to two U.S. presidents, and most recently served as COO of the Obama Presidential Campaign and chair of Women for Obama. The event will take place at 4:30 p.m., followed by a networking reception at 225 Franklin St.
Hosted by the REFA Emerging Leaders, REFA will hold its Fall Executive Insights program on November 12, featuring speaker John Barros, chief of economic development, city of Boston. The Executive Insights series is designed to bring Emerging Leaders and industry leaders together for an informal, closed-door conversation. Speakers spend time during the program talking about their careers, how they got to where they are today, provide advice for Emerging Leaders and their take on the market.
Part two of REFA's two-part Tax Reform Education Series will take place on November 13. John Sheehan, Lauren Sykes and Steven Kennedy with PwC will break down the "Tax Cuts and Jobs Act" (TCJA) legislation, update attendees on the changes that have taken place over the past few months and tell you what you need to know about the impacts on the real estate industry.
For more information about REFA and upcoming events, please visit our website at www.REFA.org.