Boston, MA Massachusetts governor Charlie Baker and Boston mayor Martin Walsh joined developer Trinity Financial and community and neighborhood leaders to celebrate the official groundbreaking of Boston East.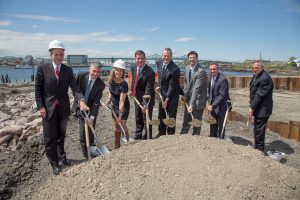 Shown (from left) are: Anthony Verzi, executive director of real estate banking at JP Morgan; Brian Golden, director of the Boston Redevelopment Authority; Abby Goldenfarb, vice president at Trinity Financial; Boston mayor Martin Walsh; Mass. governor Charlie Baker; state representative Adrian Madaro; Boston city councilor Sal LaMattina; Al Caldarelli, executive director of the East Boston Community Development Corp.
Located on the waterfront in East Boston, Boston East is a $71 million boutique mid-rise residential community that features 174 market-rate and 26 affordable units, including six artist live-work units. Boston East will also actively engage the waterfront through the development and expansion of the Boston Harborwalk made possible in part through a $3 million MassWorks Infrastructure Program grant to East Boston.
"Today we are seeing another example of the amazing accomplishments that come of successful public-private partnerships," said governor Baker. "Not only will this development bring new housing opportunities to East Boston, but it will open up the waterfront to the entire community, transforming a former industrial site into an asset for the neighborhood as a whole, and maximize our administration's infrastructure investments."
Boston East, which is designed by ICON Architecture, features an acre of open space that includes a number of community outdoor spaces – including multiple decks and a large rooftop lounge. A harbor walk trail will extend around and past the development, and residents will also have access to onsite paddle boarding and a kayak launch.
"This is an exciting day for East Boston, as this project will have a tremendous impact on the neighborhood and revitalize our waterfront," said mayor Walsh. "Boston East is a great example of how we are working together with our partners to transform vacant, city-owned lots into thriving and innovative spaces. This development is not just for its residents, but for the entire East Boston community: with increased access to the Harbor, expanded open space, and space to celebrate art and culture."
Boston East is located in one of the city's fastest growing neighborhoods near restaurants and a variety of arts, cultural and outdoor amenities and activities. The development was financed through a $45.7 million construction loan from J.P. Morgan and will feature studio, 1, 2 and 3-bedroom units, along with loft units located close to the MBTA Blue Line, downtown and Logan International Airport. In addition, Boston East will feature a public art gallery that will showcase work from area artists.
The site also includes a portion of land that is a Designated Port Area and will be developed by the East Boston Community Development Corp. with a marine related use.
Boston East - Boston, MA
"Today's groundbreaking represents a major milestone for East Boston," said Al Caldarelli, executive director of the East Boston Community Development Corp. "This project has been more than a decade in the making, and its unique mix of housing, artist amenities and public access to the water makes it an asset to the entire East Boston community."
The interior of Boston East will also feature designs by husband and wife duo Robert and Cortney Novogratz, who are known for their eclectic taste and unique style. In their latest project, Boston East residents can expect the interior to reflect influences from Boston's rich history and the nearby marinas and shipyards.
"We're thrilled to mark the official groundbreaking of Boston East, which will offer residents the opportunity to enjoy waterfront living in one of Boston's hottest neighborhoods," said Abby Goldenfarb, vice president at Trinity Financial. "We're fortunate to have so much support from all of our state, city and local partners. This community will be unlike any other residential development in Boston, enabling residents of all ages to experience the very best of active, urban living in a thriving East Boston."
Trinity Financial has developed a number of luxury apartment communities in Boston, including Avenir and One Canal located near North Station in downtown.