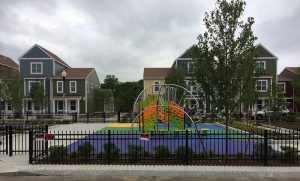 Taunton, MA According to Trinity Management LLC, Bristol Commons/Lenox Green in Taunton, Mass., won the 2016 Vanguard Award in the New Construction, More Than 100 Units category from the National Affordable Housing Management Association (NAHMA).
"Your property's recognition as a Vanguard Award winner is well deserved," wrote NAHMA's executive director Kris Cook in announcing the award. "The Vanguard Award celebrates your success in the multifamily affordable housing industry by recognizing and benchmarking new, quality multifamily affordable housing development."
Bristol Commons/Lenox Green replaced 150 units of barrack-style public housing that had become structurally unsound and a hotbed for individuals involved in drugs and crime. In collaboration with Taunton Public Housing, the site was reconfigured into townhouse-style homes. The property includes a playground, a basketball court, a splash pad, and a community garden for residents. Head Start operates a pre-school program, and the YMCA runs an after-school program at the site. Resident services are available on site. 
Because the city wanted to decrease density, only 88 units could be built at the original site. To ensure no net loss of housing, therefore, the city donated a brownfields site downtown, which was cleaned up to accommodate another 72 apartments, increasing the total number of affordable units to 160.
"We are so proud to be a part of this transformation," said Trinity Management CEO Kate Franco, who spoke about Trinity's zero-tolerance for crime, careful screening of applicants, and commitment of service to our residents at Bristol Commons/Lenox Green and to the whole Taunton community.
"We are thrilled to once again be the recipient of the Vanguard Award," said Trinity vice president Bob Cuttle, noting that Glenark Landing in Woonsocket, R.I. won last year in the major rehabilitation category.