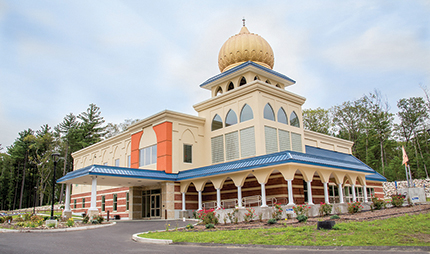 Westborough, MA Vantage Builders, Inc. completed the ground-up construction of the New England Sikh Study Circle's (NESSC) new place of worship.
The 28,000 s/f temple is located at 168 Flanders Rd. The temple, known as Gurdwara Sahib, is the principal place of worship for the New England Sikh community.
The visual focal point of the temple is its traditional golden dome, which was built in and shipped from India. Upon entering, visitors are welcomed in the rotunda, set with custom tiling. The facility has more than 50 rooms, including eight classrooms, four meeting rooms, offices, a library, dining area and the residences of the community leader.
The meeting rooms accommodate groups of varying sizes, from 50 to 480 people. The largest, the temple's prayer room, features radiant heating for barefoot walking. A commercial kitchen can prepare meals for up to 300 people in the community's langar meal hall.
The temple is located on a 37-acre, wooded site. Vantage did site work, including new landscaping, grading, creating a parking lot and installing a storm water retention system.
The project team included JG Associates (architects); AKAL Engineering Inc. (MEP engineers); and Waterman Design Associates, Inc. (civil engineers); and Rivermoor Engineering, LLC (structural engineers).
"Working closely with the team at New England Sikh Study Circle has been a wonderful experience," said Ed Silva, principal, Vantage Builders. "It's been gratifying to be involved with the temple in each of the multiple phases of the project. It's a beautiful facility and a terrific addition to the community."