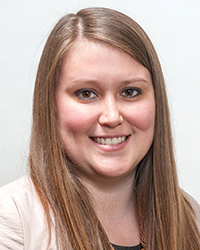 Providence, RI Vision 3 Architects has promoted Emma Dowden to job captain with the firm. Dowden graduated from Roger Williams University with a master of Architecture in 2014. She began at Vision 3 completing an internship during her senior year and working part-time during school until she joined the firm full-time as an intern architect after graduation.
Due to her work over the last two years, including the recently completed new Downtown Providence campus facility for Roger Williams University at One Empire Plaza in Providence, she has been promoted to her new position.
She is currently working with the education and hospitality teams on renovations to housing and classrooms for Massachusetts Institute of Technology (MIT) and a bar/lounge renovation for Foxwoods Resort Casino.