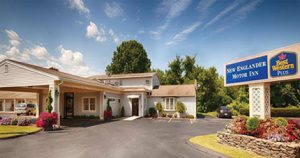 The Best Western Plus - Bennington, VT
Bennington, VT Wason Associates Hospitality Real Estate Brokerage Group (Wason Associates) completed the closing and sale of two properties – The Best Western Plus, located in Bennington, and The Palmer House Resort in Manchester, VT.
The Best Western Plus is located near Bennington College and several ski resorts. The property was acquired by S.K.B.W.V. Acquisition LLC for a final purchase price of $3.8 million. The property boasts 58 renovated rooms and a spacious owner/property manager residence.  
Situated on 16-acres, The Palmer House Resort was purchased by Palmer House LLC and finalized for a sale price of $3 million. The 50 guest room property is surrounded by the Green Mountains and features a 9 hole golf course and trout pond.
"These two properties demonstrate great market potential, and we are pleased to have secured the successful transfer of both," said Joe Cardillo, broker associate and Vermont licensed broker for Wason Associates. "With prime locations and proximity to year-round activities, the ideally-situated properties attract business and leisure travelers and prove to be mutually beneficial to all parties involved."