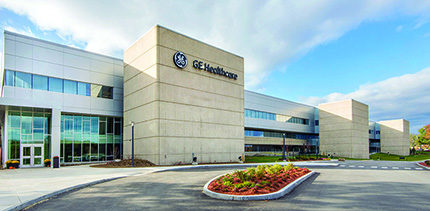 Marlborough, MA Wayne J. Griffin Electric, Inc. (Griffin Electric) has completed electrical installation work for GE Healthcare, which included phased fit-up work for office, lab and cGMP spaces.
To complement the company's existing life sciences operation in Westborough, the medical equipment manufacturer has taken residence within a 200,000 s/f site in Marlborough Hills. The new U.S. life sciences center for biopharma research and business, GE Healthcare's Marlborough operation includes state-of-the-art laboratories, assembly spaces, customer appreciation facilities, training and office areas.
The Wayne J. Griffin Electric, Inc. team was responsible for the installation of power and lighting at the facility, which included 100% efficient LED lighting fixtures. In addition, systems for fire alarm, life safety, tele/data, emergency generator, security cabling, UPS and frequency converter were installed by the Wayne J. Griffin Electric, Inc. team. GE-manufactured products were utilized as part of the lighting package installed, as well as for the switchgear and UPS systems.
Suffolk served as the project's construction management firm, while SMMA (Symmes Maini and McKee Associates) was the architect and electrical engineer.