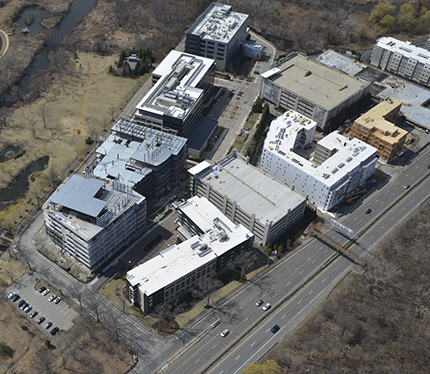 Cambridge, MA According to Bulfinch, an affiliate of the company, in joint venture with two institutional investors, completed the acquisition of Forrester's World Headquarters and Garage A at Cambridge Discovery Park (CDP).
The property was originally developed by Bulfinch in 2011 and later sold in 2014. The building consists of six floors and totals approximately 193,000 s/f of office space with 650+/- garage parking spaces. The property is 100% leased to Forrester Research, Inc. under a long-term lease. Bulfinch's prior knowledge from having developed the asset and completed the Forrester lease afforded a competitive advantage in the sale process. People's United Bank provided long-term financing.
The building is located in the middle of one of Bulfinch's premier developments: Cambridge Discovery Park. Measuring 27 acres, CDP is one of the largest campuses in Cambridge, offering a unique natural environment all within close proximity to the Alewife MBTA Red Line Station as well as minutes from Boston, Logan Airport and Rte. 128. Situated in Alewife's life science cluster, CDP has emerged as a desirable alternative to East Cambridge's low vacancy constraints, offering space for innovators in Boston's life science hub. This lab, R+D and office campus includes 400,000 s/f in three buildings, two parking garages with space for over 1,000 vehicles, including electric car charging stations, and a 150 room AC Marriott Hotel with conference center, restaurant and bar. Currently under construction, Building 400-500 is Bulfinch's newest addition to CDP adding 283,000 s/f of Class A lab, R+D and office space to the park with a delivery of Q1 2020.
"Cambridge remains supply constrained for both office and life science users. The strategic location within Cambridge, and specifically within CDP, made this asset an excellent investment and addition to our portfolio," said Eric Schlager, CEO of Bulfinch. "We are excited to return our entrepreneurial spirit and commitment once again to this asset, and we look forward to continuing our relationship with Forrester."
Photo credit Tony Cammarata, Aerial Boston