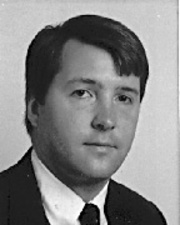 Douglas Macmillan, Macmillan and Son, Inc.
Springfield, MA Douglas Macmillan passed away on February 16, at the age of 49. He graduated from Holyoke High School, and then went on to obtain his associate of Business Administration from Holyoke Community College in 1990 and a bachelor of Business Administration from American International College in 1992. He obtained his license as a Massachusetts real estate broker.
In 1996, Macmillan and Son, Inc., celebrated its 75th year of service, and it entered its third generation of active family leadership as he assumed the role of president of the company overseeing its operation.  Macmillan was unique in his business due to his integrity, intelligence and wit. He was also very involved in his community, including being a member of the Realtor Association of Pioneer Valley, Mass. Association of Realtors, National Association of Realtors and New England Commercial Property Exchange. He was also director of the Affiliated Chambers of Commerce of Greater Springfield, Inc. and Develop Springfield, a member of Rotary Club of Springfield (Paul Harris Fellow), Pioneer Valley Business Executives, Hampden County Deputy Sherriff's Association and a board member of the Affiliated Springfield Chamber of Commerce, and the Springfield Boy's and Girl's Club. He was also a member of the St. Mary's Academy school board in Longmeadow, voting commissioner for the city of Springfield and Republican Delegate for the state convention.
Memorial contributions may be made to Shriners Hospital for Children, 516 Carew St., Springfield, Mass. or Boys and Girls Clubs of Springfield, 481 Carew St., Springfield, Mass. 01104.