Ellsworth, ME Jewett Construction Company, Inc. has been selected by Stanley Subaru to undertake a 22,000 s/f design-build renovation of its auto dealership. The project includes renovations and three additions to the existing dealership and annex buildings.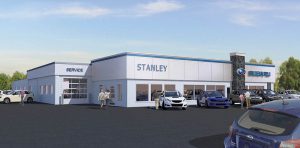 Stanley Subaru - Ellsworth, ME
Carefully coordinated project phasing will be undertaken to ensure the firm's daily operations continue uninterrupted. A conventionally-framed addition to the annex building will first be constructed, creating a new auto reconditioning department and administrative offices—after which all operations will be relocated there while the second phase of construction is underway.
Phase two includes both a renovation of the dealership building's existing interior in accordance with Subaru of America's latest image upgrade requirements as well as two additions, a pre-engineered metal building by Butler Manufacturing to house a new service department, and a conventionally-framed addition destined for a new, expanded showroom—the two additions requiring the integration of steel-framed structures with wood framing, as well as conventional steel with pre-engineered metal building components. The entire project will be completed by January 2017.
Jewett Construction, an official Butler Builder, is a family-owned design-build/construction management firm specializing in automotive, commercial and industrial projects throughout the Northeast. Its many clients include such well-known organizations as the Monarch School of New England, LAARS Heating Systems, The Bean Group, Kennebunk Savings Bank, and the Herb Chambers Cos.