Norwood, MA According to Campanelli, construction has commenced on the $10 million full-building redevelopment taking place at UPLAND (formerly known as Upland Woods Building 100). In collaboration with Danielle Simbliaris, leasing manager at Campanelli, Newmark Grubb Knight Frank's (NGKF) Mike Frisoli, Taryn Wilson and Matt Morgan will serve as the exclusive leasing agents at UPLAND. Designed by Margulies Perruzzi Architects, renovations will be ready for tenant move-in in September.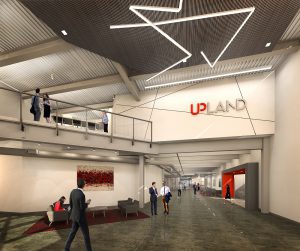 UPLAND eas lobby rendering - Norwood, MA
UPLAND's dramatic revitalization includes a new full-service café, a fitness center with shower and locker rooms, a spin studio with virtual ride instruction, conference facilities, a gaming area with foosball, ping pong and shuffleboard and break-out collaboration spaces. Appealing to both established and growing companies, UPLAND's exposed ceilings, open spaces and central "street" with storefront-style tenant entrances will accommodate companies from 11,000 to 193,000 s/f.
Located directly off I-95, UPLAND is a class A office building totaling 193,000 s/f. UPLAND is located close to Legacy Place, University Station. A true live, work, play environment, the campus includes One Upland, a newly developed 262-unit luxury apartment community and is within minutes from both the MBTA commuter rail and Amtrak.
"Many companies in the Burlington/Waltham/Needham submarkets are finding that their rents have significantly increased since they signed their lease five, seven, ten years ago," said Frisoli. "You can count the number of options on one hand of brand-new class A product currently in the 128 South market. We will be the most sought-after building in this submarket and will provide great value for companies being priced out of the Burlington/Waltham/Needham area."
For over two years Frisoli and Morgan have represented Campanelli at Heritage Landing in North Quincy: a three building, 500,000 s/f, class A office campus. During this time, Campanelli completed a multi-million dollar renovation at all three buildings which includes new entrances, lobbies, multiple café concepts featuring downtown eatery Sebastians and a fitness facility.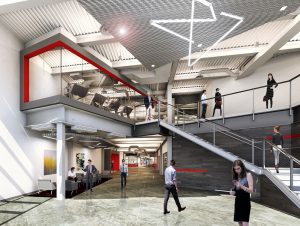 UPLAND west entry - Norwood, MA
"Frisoli and Morgan have been at the helm of successfully taking Heritage Landing from fully vacant to almost 80% occupied. We plan to deliver the same caliber of amenities and first-class space at UPLAND and continue the great momentum we have had at Quincy in Norwood. With Frisoli and Morgan's accomplishment and Wilson's expertise and knowledge of the property over the past decade, we are excited to maximize the great potential of this hidden jewel" said Steve Murphy, partner at Campanelli.
Established in 1947, Campanelli is a third generation, full-service commercial real estate development and acquisition company with extensive experience in the industrial, office, medical office, warehouse/distribution, retail, educational and cold storage markets. Campanelli began building homes during WWII and transitioned from residential to commercial real estate in the 1960's. The team, known for their seamless ability to work with their clients and act as the "real estate division" of a company, has developed 11 business parks in Massachusetts, over 20 million square feet across the nation and provided international development consulting and site selection services. The company's signature capabilities include land development, design and build, redevelopment and value-added acquisitions. It is Campanelli's all-encompassing and quality services that have led to its successful track record as a highly-regarded developer; from site selection, feasibility analysis, local, state and federal permitting, to architectural and engineering design, building construction and facilities and property management. For more information, visit our new website at Campanelli.com.