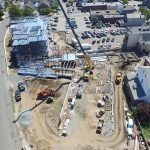 Brightview Senior Living - Wakefield, MA
Wakefield, MA Structural steel installations began at the Brightview Senior Living community located at 21 Crescent St. Shelter Development developed the new 167,000 s/f community that accesses the town's shops and eateries, is nearby Lake Quannapowitt and about 10 miles from Boston. PROCON is the project's architect and construction manager.
The 4-story, Victorian inspired community features 130 luxury apartments in a variety of floor plans and care options. Independent living residents will occupy 61 units, and 32 are dedicated to assisted living. The remaining 27 apartments fall under Wellspring Village, which is a program designed to enhance the lives of those living with memory limitations and is unique to Brightview Senior Living Communities.
Brightview Senior Living - Wakefield, MA
Convenience and necessity are crucial elements in the lives of older adults, and Brightview Senior Living in Wakefield will offer abundant in-house services to ease the lives of its residents. Among those amenities are a salon/barber shop, pub, fitness area, a well-stocked library café, a multi-purpose room, group activity spaces and elegant dining rooms. These types of one-stop conveniences free up more time for the residents to enjoy leisure activities, such as clubs, games, hobbies and get-togethers.
In recent years, medical technology has prolonged overall lifespans producing a "silver boom." That translates into an increased demand for housing that addresses the specific needs of older adults. According to the 2015 Akerman Real Estate Industry Report the number of people 65 or older is expected to increase 183% by 2050 to nearly one billion people. Brightview Senior Living Communities has responded by providing older adults with communities in eight Eastern seacoast states.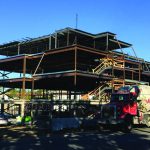 Brightview Senior Living - Wakefield, MA
The project commenced in spring, 2016 with preliminary site work involving building abatement, demolition, and removal of the existing sidewalk and utilities. New sewer lines were installed followed by foundation placement, that continues as steel erection goes into full swing. Brightview Senior Living Community in Wakefield is expected to be completed in December 2017.