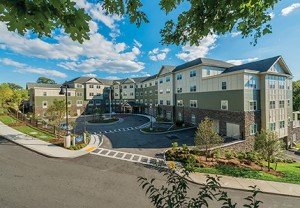 Brightview Assisted Living Community - Arlington, MA
Concord, NH Design and construction firm, PROCON, was honored with two 2015 Excellence in Construction awards by the Associated Builders and Contractors of New Hampshire/Vermont Chapter (ABC NH/VT). Brightview Assisted Living Community in Arlington, Mass. was awarded the top honor, "Design-Build Excellence" and PROCON's Architecture/Engineering (A/E) Office Expansion received the "Design-Build Merit" award. Project teams from companies throughout the region gathered at the Capitol Center for the Arts to recognize the award winners.
Brightview Assisted Living Community in Arlington originated in 2012 as a rocky ledge filled with trees, dense foliage and a steep boulder-filled slope presenting immense construction challenges. Today, a 4-story 68,000 s/f building overlooking Boston's skyline, occupies the site with every modern amenity to meet the needs of a rising assisted living population. "It was a challenging job that had a successful ending thanks to our project team. Shelter Development has called it one of their favorite communities because of the building location, color schemes, and layout," said senior vice president and project executive Dan Messier who accepted the award alongside members of the project team.
The class A office space now known as PROCON A/E offices began its life in the 1960s as the Gilbert Block Plant. PROCON acquired the building in the 1980s and the warehouse quickly became a storage zone for construction equipment and Associated Builders and Contractors training. As the company grew exponentially, the need arose for a collaborative workspace to house its 50 plus architects and engineers. The new A/E office expansion has provided a productive and attractive office space showcasing the PROCON design team's architectural skills and construction management talents. PROCON executive vice president of operations, Lance Bennett, took to the stage with members of the AE design team and thanked the organization for the award.