Amesbury, MA Coldwell Banker Residential Brokerage Premier Communities and Hatter's Point Capital LLC have begun work on Hatter's Point, a 45-unit waterfront residential condominium development for adults 55 and older.
With each home having views of the Merrimack River and in close proximity to a 135-slip marina and state-protected forests, Hatter's Point will include a five-story building with a mix of one-bedroom, two-bedroom and penthouse condominiums ranging in size from 1,595 to 2,298 s/f. Each of the homes will feature private balconies and glass walls designed to maximize the scenic water views. Owners will have a heated garage as an amenity.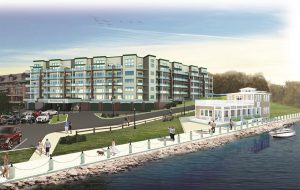 Hatter's Point - Amesbury, MA
The condominiums are being built as part of the second phase of a residential community located on the site of the former Merrimac Hat Factory.
"Hatter's Point offers a rare opportunity to own a newly constructed condominium in a sophisticated active-adult community offering water views and access to all of the Merrimack River's treasures. The development team has focused on creating a community that takes into consideration the area's natural beauty and its resources. We anticipate a robust demand from buyers who value maintenance-free waterfront living in a community that is convenient to local shops, restaurants and amenities," said Christina Mackey, the sales director affiliated with Coldwell Banker, who is exclusively marketing Hatter's Point.
Highlights of the home will include designer kitchens and baths, stainless steel appliances, natural gas fireplaces with granite surround, central air, modern engineered hardwood flooring, tile and carpet throughout the homes, and gas hook-ups for outdoor grilling.
Guests of the community will be greeted by a grand lobby with details and relaxed seating at the building entrance and a high-definition security/intercom system will provide guest entrance. Additional building features include a community room, mail and package area, heated garage, enclosed heated recycle /refuse center and storage. A garden courtyard with seating as well as a landscaped river walk add to the community's amenities.
"Hatter's Point, with its breathtaking water views, reinforces our commitment to creating thoughtfully designed homes that deliver a distinctive and vibrant lifestyle for residents," said Larry Smith, executive managing director of Restoration Capital and Hatter's Point Capital.
Hatter's Point is the most recent development undertaken by Restoration Capital. Restoration Capital recently completed The Village at West Gloucester, an age-restricted community of 34 duplex-style condominiums, and The Village at Magnolia Shores, a condominium development of 44 duplex-style homes in Gloucester.
Construction of the first homes is expected to be completed by the spring. 
Coldwell Banker Premier Communities, a division of Coldwell Banker Residential Brokerage in New England, was created to meet the on-site marketing requirements of the builder and developer community and serves the particular needs of multi-unit developments throughout New England, while leveraging the resources and network that Coldwell Banker Residential Brokerage has to offer. Premier Communities is considered to be a strategic partner in marketing New England developments.
Coldwell Banker Residential Brokerage is one of the largest residential real estate brokerage companies in New England. With more than 4,000 affiliated sales associates and staff in approximately 80 office locations, the organization serves consumers in Massachusetts, Rhode Island, New Hampshire and Maine. Coldwell Banker Residential Brokerage is part of NRT LLC, the nation's largest residential real estate brokerage company.
Restoration Capital was founded by Larry Smith in 2007. Through Restoration Capital, Smith has purchased many non-performing construction loans from institutional lenders allowing consumers to purchase high-quality homes at a fraction of their original selling prices. Since its inception, Restoration Capital has established strong working relationships with many special asset managers, executive-level lenders and other industry partners to identify multiple distressed construction loan portfolios for purchase. Restoration Capital is also a member of the National Association of Residential Construction Lenders.