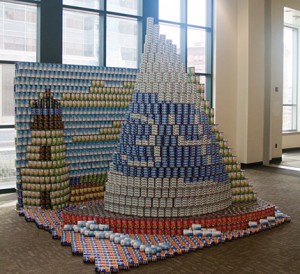 Turning the Tides on Hunger by Durkee, Brown, Viveiros, & Werenfels Architects, Odeh Engineers, Parker Construction Co., and Herrick & White Architectural Woodworkers. Awarded Jurors' Favorite and Best Use of Labels.
Providence, RI Six Canstruction RI sculptures, created from full cans of food by teams of architects, engineers and contractors for a two-week March exhibit at Providence Place resulted in a donation of 29,514 pounds of non-perishable goods to the Rhode Island Community Food Bank (www.rifoodbank.org). The total beat the R.I. biennial event's 2014 record by 1,174 pounds.
The volunteers re-created favorite characters like R2D2 and BB8 from Star Wars: The Force Awakens, Dory from Finding Nemo and the upcoming Finding Dory, and Left Shark from the 2015 Super Bowl halftime Show along with a taste of everyone's favorite coffee, Dunkin' Donuts, a magic lunchbox, and a tribute to the Ocean State.
To inspire further participation and donations as well as more public awareness of significant problems of food insufficiency, the event also is organized as a competition – locally and internationally. Canstruction  (www.canstruction.org) is a national food charity of the design and construction industry that has helped raise nearly 40 million pounds of food since 1992.
The juried R.I. and international award categories are Best Meal, Best Use of Labels, Structural Integrity, Jurors' Favorite and Honorable Mention. Photos of sculptures honored with Canstruction RI awards are entered in the same categories in the annual international competition. A local People's Choice Award was voted on by visitors to the Food Bank's Facebook page. All other winners were chosen by an independent jury composed of local experts and professionals.
Participating teams, their sculptures and awards were:
• Construction Leadership Council of the R.I. Chapter of Associated General Contractors, Providence: The Rhode Island Food Bank Runs on Dunkin'
• Durkee, Brown, Viveiros & Werenfels Architects, Providence; Odeh Engineers, Providence; Parker Construction Co., East Providence; and Herrick & White Architectural Woodworkers, Cumberland: Turning the Tides on Hunger, Jurors' Favorite and Best Use of Labels.
• Dimeo Construction Co., and Edward Rowse Architects Inc., both Providence firms: The Magic Lunchbox, awarded an Honorable Mention
• Gilbane Building Co. and Brewster Thornton Group Architects, both Providence companies: Just Keep Giving, Just Keep Giving
• LLB Architects, Pawtucket, and Shawmut Design and Construction, Providence: Left Shark Dances Out Hunger, Structural Ingenuity and People's Choice.
• Saccoccio & Associates, Cranston; DiPrete Engineering, Providence; and H. V. Collins Co., Providence: May the Force be with us to Eliminate Hunger, Best Meal
This year's jurors were: Jamie Coelho, associate editor, Rhode Island Monthly; Don Hamel, territory sales representative, Andersen Corp.; Jonathan Knowles, associate professor of architecture, Rhode Island School of Design; Torey Malatia, president, chief executive officer and general manager, Rhode Island Public Radio; Erminio Pique, creator, Big Nazo; and Christopher Whitney, board member, Rhode Island Community Food Bank.
The awards were presented at a late-March gala to team captains by Canstruction RI co-chairs Drayton Fair, AIA, ALA, LEED AP, a partner at LLB Architects, and Michael Busam, new business development director at Gilbane Building Co. Rhode Island Community Food Bank chief executive officer Andrew Schiff addressed the group.
"Once again I am amazed by the creativity and ingenuity behind each Canstruction sculpture," he said. "And I'm even more pleased that this event raises awareness of hunger in the state and helps stock our shelves with nearly 30,000 pounds of food. We appreciate all of the hard work and dedication behind this effort."  Each month, the Food Bank serves 60,000 people through a network of 167 agencies such as food pantries, shelters, youth programs and senior centers.
Canstruction is sponsored nationally by the Society for Design Administration, and each biennial Canstruction Rhode Island event is sponsored and organized locally by R.I. chapters of the American Institute of Architects (AIA-ri) and Associated General Contractors (RIAGC). The many private companies sponsoring this year's event include: Taco Inc., Cranston; Kasabian Construction, Providence; Andersen Windows & Doors, Bayport, Minn.; Pace Representatives, Braintree, Mass.; and Maloney & Co., Guilford, Conn.  In-kind donors include General Growth Properties, Providence; Gasbarro's Fine Wines, Providence; Rhode Island Rentals, Warwick; Inkwell Communications, Providence; and The Color Company, Providence. In addition, each team relies on many other sponsors to fund the purchase of the cans of food.