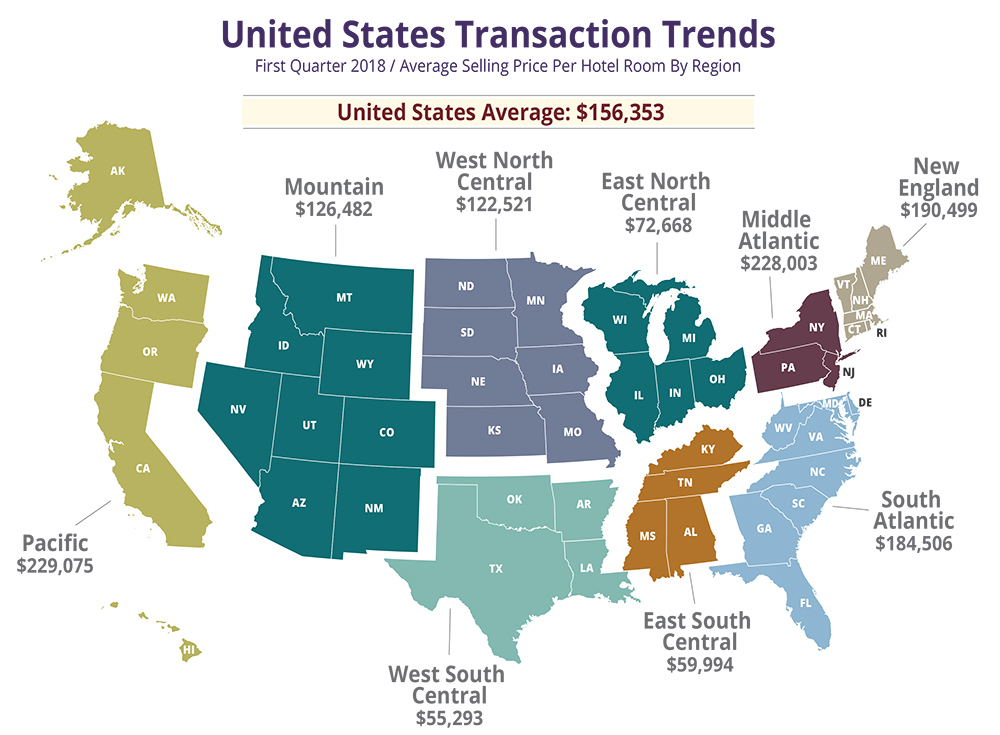 New England Hotel Realty (NEHR), powered by the global hotel intelligence of Lodging Econometrics (LE), recently reported that through Q1 2018 there have been 138 hotels sold with an average selling price per room (ASPR) of $156,353 in the United States. For the same period last year there were 222 hotels sold with an ASPR of $134,382. While there were more hotel sales last year, the ASPR has increased year-over-year (YOY).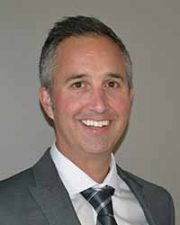 The regions of the country that have seen the most transaction volume and highest ASPR, for sales with a reported selling price, thus far in 2018 are as follows: the Pacific region leads with the highest ASPR at $229,075 with 18 hotels sold year-to-date. The 77-room luxury Landing Resort & Spa in South Lake Tahoe, CA sold to DiamondRock Hospitality for the highest amount in this region in Q1.
The Pacific region is followed by the Mid Atlantic region with an ASPR of $228,003 for only 9 hotels sold. The upper upscale 319-room Westin Alexandria sold for an ASPR of $402,547 to a private equity group from Hong Kong as part of a portfolio sale.
Following closely behind is New England with 8 hotels sold for an ASPR of $190,499. The 320-room Marriott Hotel Newport in Newport, R.I. sold for highest amount so far this year, at $88 million, which is an ASPR of $275,000.
Although still early in 2018, the Pacific and Mid Atlantic regions have seen significant decreases in transaction volume, but spikes in ASPR, while New England has seen both an increase in hotels sold and ASPR.
Nationally, last year represented one of the lowest total transaction years in recent memory. Only 861 properties with a reported selling price were sold in the U.S. in 2017; whereas in 2016, 1,053 properties with a reported selling price were sold. One of the reasons for the low transaction volume is because high occupancies, ADRs, and strong profits have led owners to hold onto their assets. However, recently owners have begun to report that their operating performance has begun to level off, and in some cases, has begun to decline.
NEHR has noticed a considerable uptick in the number of hotel owners who have contacted us requesting consultations in anticipation of selling.
Upper midscale, midscale and economy hotels have transacted the most through Q1 2018 with a total of 76 hotels sold. Economy hotels lead this segment with 34 sold for an ASPR of $39,511 followed by upper midscale with 32 hotels sold for an ASPR of $104,575. Luxury, upper upscale and upscale hotels follow closely behind with 62 hotels sold through Q1. Upper upscale hotels are the most transacted in this segment with 31 hotels sold for an ASPR of $190,255, followed by upscale hotels with 23 sold for an ASPR of $152,188.
Investor interest in upscale, upper midscale and midscale branded hotel assets continues to remain high due to factors including: the low cost of capital and the availability of it, and the low availability of assets on the market to meet investor demand.
NEHR has a substantial and continuously growing roster of pre-qualified investors who are interested in acquiring these branded hotel assets in New England now.
If you are interested in acquiring or disposing of hotel assets, or if you would like to be notified when an asset meeting your acquisition specifications becomes available for sale, please contact us or register on our website; newenglandhotelrealty.com.
For more than 40 years, NEHR has been the leading hotel real estate brokerage firm in New England. Powered by an arrangement with our sister company Lodging Econometrics (LE), the global provider of hotel real estate intelligence, we pride ourselves on providing our clients with exceptional brokerage services. Utilizing LE's intelligence, NEHR has advised an extensive number of buyers and sellers on the disposition and acquisition of lodging assets, property valuations, asset management services, and the forecasting of future supply/demand trends in many markets.
Shane Vahey is the director of hotel brokerage and advisory services at New England Hotel Realty.
With over 15 years of experience effectively representing sellers throughout the Northeast, including NYC, Vahey is a trusted real estate advisor to many investment groups as well as individual investors. He is active throughout the region and has brokered deals and secured financing for many assets throughout New England and NYC. Many ownership groups regularly consult with Vahey on disposition strategies and, ultimately, entrust him to confidentially offer their hotel assets to his extensive database of hotel investors. Vahey has earned the business of many buyers and sellers due to his intimate knowledge of the hotel marketplace and by completing transactions quickly and confidentially.