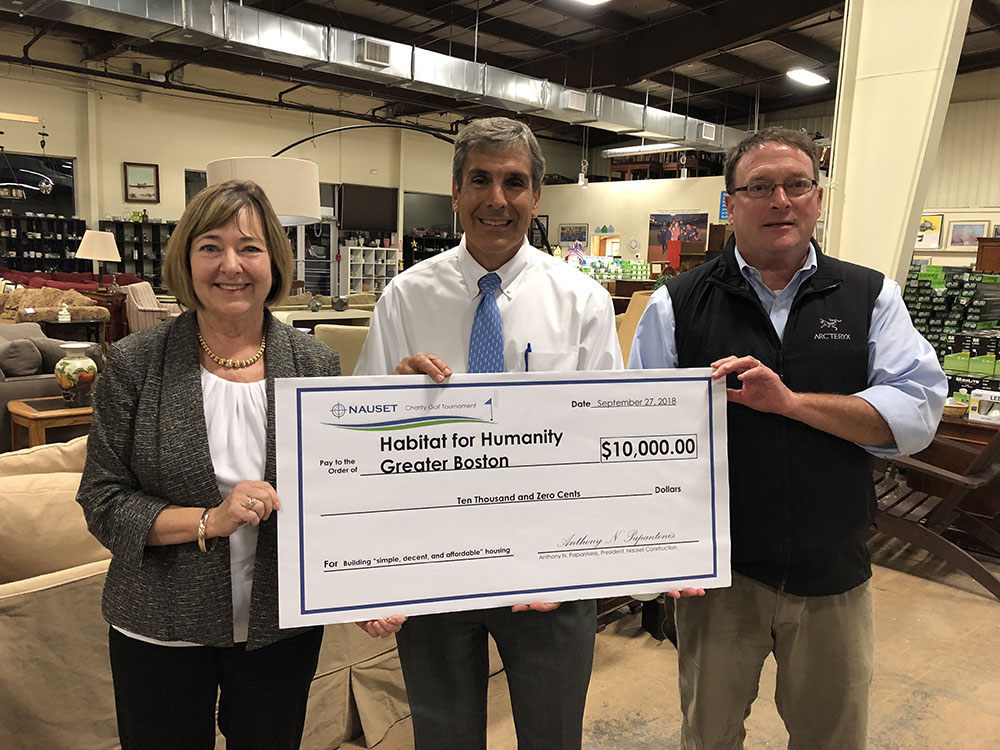 Needham, MA Nauset Construction continued its ongoing commitment to supporting Habitat for Humanity Greater Boston, donating $10,000 raised at its inaugural Charity Golf Tournament. Held at the Brookmeadow Country Club on September 20, the tournament drew over 125 golfers of all skill levels to the scramble tournament, which was aided greatly by the work of sponsors, including All Renewable Energy and the W.L. French Excavating Company. Nauset has committed to making the charity tournament a biennial event, with plans to donate the proceeds to Habitat and other non-profit organizations.
"It is our responsibility as a successful business to support the communities that we serve," said Anthony Papantonis, president and founder of Nauset Construction. "And for us that means working to help Habitat for Humanity succeed in its mission. Our ongoing relationship has been a rewarding experience for our employees, as well as a growth experience for me personally."
Papantonis and Nauset have been involved with Habitat since 2009, and in 2014 Papantonis was appointed to the Habitat for Humanity Greater Boston board of directors. Papantonis has also volunteered for two homebuilding missions, to Vietnam in 2014 and Cambodia in 2017. Additionally, Nauset provided pro bono construction management services for the interior fit-out of the non-profit's new 22,000 SF ReStore location in W. Roxbury, where Papantonis presented the $10,000 check to Lark Palermo, president & CEO of Habitat for Humanity Greater Boston and its board of directors chair, Robert E. (Bob) Kenney, president & CEO of Kenney Development Company. ReStore raises funds for Habitat by reselling donated new or gently used household appliances and home improvement materials to the public.
The golf tournament and other philanthropic activities are coordinated by the Nauset Construction Philanthropy Committee (NCPC). This employee-led volunteer group strives to positively impact the communities in which Nauset lives and works by supporting the surrounding areas in times of need, strengthening the environment and giving back to improve society through encouraging employee involvement, team building and community service. In addition to their efforts to support Habitat, the NCPC also recently funded a pizza party and t-shirt decorating activity at the pediatric psychiatric wing of Franciscan Children's in Brighton, a section of the hospital which Nauset constructed in 2010.
The committee also recently collaborated on a design-build treehouse project with Waltham-based design firm DRA, Drummey Rosane Anderson, Inc. The treehouse was built for a local child with a life-threatening medical condition through Make-A-Wish Massachusetts and the Rhode Island Foundation, with a ribbon-cutting ceremony scheduled for the first week in November.