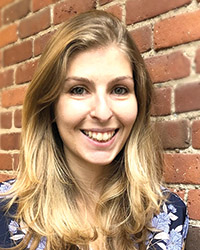 Boston, MA R.E. Dinneen Architects & Planners, Inc. (REDAP) has promoted Marissa Meads to interior designer.
Meads graduated from Massachusetts College of Art and Design with a bachelor of Fine Arts with a concentration in Architectural Design. She worked on commercial and residential projects ranging from single family to 100 unit condominiums with ground floor retail and food services, at Roche Christopher Architects and Planner (RCA), LLC. After five years, she decided to explore the life sciences market with R.E. Dinneen Architects & Planners.
She has worked with R.E. Dinneen since 2017. While collaborating with representatives and vendors, she focuses on preliminary/space planning layouts, construction documents, finish selections, and project presentations. She is currently studying at the Boston Architectural College towards a master's degree in Interior Architecture. She is working on her thesis that explores how built environment can affect productivity in the work setting.
Founded in 1982, REDAP specializes in the life sciences, academic, and corporate interiors markets.