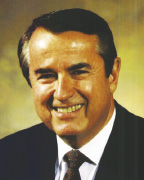 Boston, MA Jack Peckham, a past president of the Massachusetts Association of Realtors and longstanding luminary in the local and national real estate community has passed away from natural causes.
A graduate of Tufts University, Peckham served his country in the U.S. Navy as the navigator of the USS Neptune, and as an agent with the Office of Naval Intelligence serving as Officer in Charge Naval Intelligence Office, Portsmouth, N.H.
His service to the real estate industry in the city and nationally spanned a period of 57 years. He was a featured speaker at various Realtor conventions, courses and seminars in 44 states and several foreign countries including a five city speaking tour in South Africa.
Celestis will hold a memorial launch at Cape Canaveral next year.