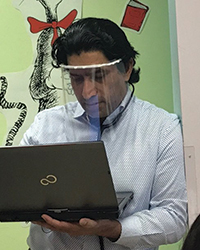 Boston, MA While the U.S. economy continues to re-open with a new normal, members of our communities are still fighting COVID-19 on the frontlines and still have a need for PPE equipment. As the world has been faced with challenges related to COVID-19 on a global scale, it has also brought about newfound dedication to innovation, kindness, and volunteerism. One such act involves a local architecture firm donating their time and resources to provide those in need with critical PPE.
Boston-based firm, RODE Architects, has been working to develop and produce protective face shields for frontline staff throughout the Massachusetts area, which has seen over 100,000 confirmed cases to date with new cases being confirmed each day. When principals/co-founders Kevin Deabler and Eric Robinson heard about the need for 3D-printed protective face gear, the firm mobilized, seeking the input of medical professionals on a variety of designs. The preference for face shields became apparent, and RODE set to work, printing, assembling, and delivering shields to local organizations in need.
To date, RODE has created and distributed approximately 200 NIH-approved shields to organizations throughout the greater Boston area, including UMass Medical Center in Worcester, CareOne in Brookline, and Boston Care Givers. RODE has received positive feedback regarding the shields--they are durable, cleanable, easy to assemble, and of course, keeping front line staff protected.