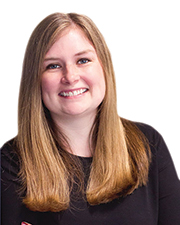 Raynham, MA DJSA Architecture PC, a full service architectural firm specializing in commercial and corporate design, has named Christina Cadigan to the position of architectural designer. In this role she will serve as an essential member of the project team, working on all phases of design projects.
Prior to joining DJSA, Cadigan was a designer with Kaestle Boos Associates; she began as an intern while studying at Roger Williams University, where she earned her bachelor of science and masters' in Architecture. Following graduation, she worked full time at the architectural firm. Her work there was largely in the public sector, focusing on public schools (K-12) and public safety complexes.
The Halifax, MA native also studied architecture for a semester in Florence, Italy during her undergraduate years. Prior to working in architecture, she also interned at Central Ceilings in Easton, MA, in the construction management field.
"It's a pleasure to welcome Christina to our team," said Dennis Swart, president of DJSA Architecture PC. "Her attention to detail and her background makes her an ideal addition to our growing team."