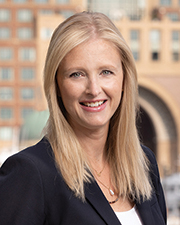 Boston, MA LeftField, an owner's project management firm, has named Linda Liporto as director of corporate interiors. In this role, Liporto is responsible for leading a team of project managers while helping grow the firm's presence in the corporate sector through strategic initiatives.
While she has been involved in construction most of her life, dating back to her technical school years in Sweden, she most recently worked as principal for a reputable Boston-based construction management firm where she took part in growing them from three employees to an impressive 90. Liporto brings 20 years of experience in the construction industry and LeftField is thrilled to have her leading the corporate interiors group.
"Linda has made a significant impact in the industry as a woman in construction and has been a major inspiration to others seeking to build their career in construction and management. We couldn't be more fortunate to have someone like her on our team," said Jim Rogers, founder of LeftField.