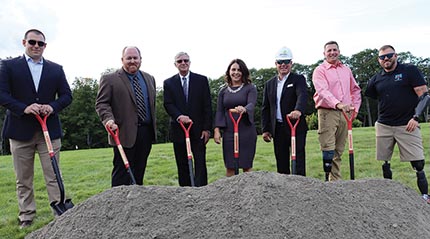 Rome, ME On September 11th, the 20th anniversary of the 2001 terrorist attacks, a groundbreaking was held for the new Travis Mills Foundation Health and Wellness Center.
The lakeside retreat was opened in 2017 by retired Staff Sgt. Travis Mills, a soldier who lost four limbs in a blast in Afghanistan. Mills created the retreat to help others like himself who were injured in wartime. It allows them to recover while surrounded by others who know what they've gone through.
The retreat has served 627 veterans, 724 families and 2,087 people from 43 states, Washington, D.C., and Canada.
Landry/French Construction is serving as the construction manager on the 9,800 s/f, $7 million health and wellness center, which will allow the foundation to expand programming to 40 weeks out of the year.