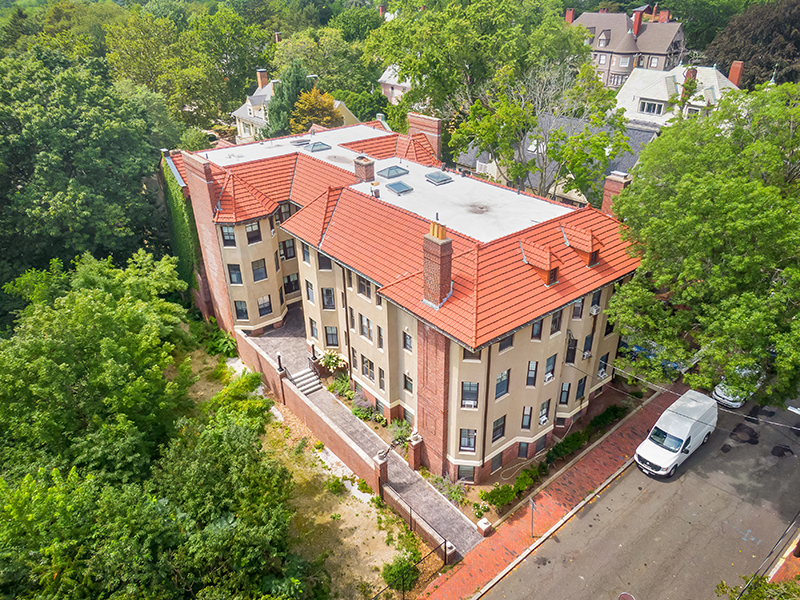 Cambridge, MA Dennis Kelleher and John Pentore of Horvath & Tremblay have completed the sale of The Agassiz, a 17-unit apartment building. The duo exclusively represented the seller and procured the buyer to complete the transaction at a sale price of $11.25 million and $661,764 per unit.
The Agassiz, one of the most marquee apartment buildings in the city and under family ownership for generations, is located at 19 Agassiz St. in Avon Hill, outside of Porter Sq. The three-story building contains 17 residential units consisting of 14 two-bedroom/one-bathroom units, two studio units and one one-bedroom/one-bathroom unit in 21,674 s/f of living area in 27,684 s/f of gross area on a 0.21-acre parcel.
The property has curb appeal with a combination brick, stone, and stucco exterior, a terracotta clay tiled roof, granite exterior steps and stone pavers with well maintained grounds. The building offers numerous upgrades throughout with most units featuring working fireplaces, four season porches, hardwood floors, granite countertops, gas stoves, and dishwashers. The property also offers an on-site laundry facility and on-site storage for the tenants.
Situated on an urban infill location on a tree-lined residential street and surrounded by single-family homes, the property is 0.2-miles from Massachusetts Ave. (MA Rte. 2A), and 0.4-miles from Porter Sq., 0.6 miles to Harvard University and less than 1 mile to Harvard Sq.
The Agassiz, which was on the market for the first time in decades, offered the rare opportunity to acquire a 17-unit multifamily asset in one of the country's best performing real estate markets.