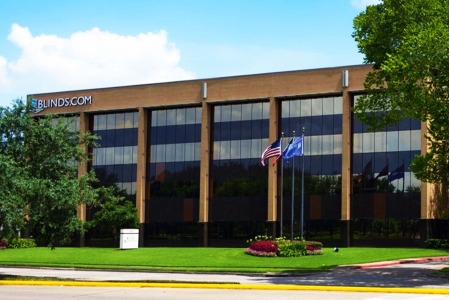 Los Angeles, CA Cove Capital Investments, LLC, a private equity real estate firm providing accredited investors access to 1031 exchange eligible Delaware Statutory Trust offerings as well as other real estate investment offerings, has completed the purchase of the 107,923 s/f corporate headquarters of Blinds.com for Cove's Houston Corporate 49 DST.
Blinds.com is the one of world's largest online window covering store, and is a subsidiary of Home Depot, one of the world's largest home improvement retailer with more than 500,000 associates, and 2,300 locations across North America. Home Depot acquired Blinds.com in 2014 to help the home improvement giant bolster its custom window covering options. Currently, the four-story commercial building is 100% occupied by Blinds.com, and secured by a long-term lease that is corporately guaranteed by Home Depot.
"The corporate headquarters of Blinds.com is an excellent acquisition for Cove Capital's growing list of all-cash/debt-free 1031/DST investment options. Houston, Texas is the fourth largest city in the United States, the second largest metropolitan area in the country for manufacturing, and headquarters to 24 Fortune 500 companies. The corporate headquarters of Blinds.com is located in Houston, TX, on a highly trafficked street that provides great exposure for the more than 43,000 cars that travel by it every day. In addition, the location is one quarter mile away to the Sam Houston Parkway (8), 35 minute-drive to the Houston International Airport, and surrounded by one of Houston's most affluent neighborhoods with an average annual income of nearly $83,000 a year," said Chay Lapin, managing member and co-founder of Cove Capital Investments.
The Property was purchased on behalf of Cove Houston Corporate 49 DST, a regulation D, Rule 506c private placement all-cash/debt free offering with a minimum investment of $50,000.