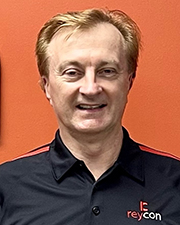 Plymouth, MA ReyCon has hired construction industry veteran Karl Walsh who has joined the company as chief operating officer.
Walsh comes to ReyCon with three plus decades of leadership roles in construction and real estate development, both in Europe and the United States. His career features projects delivered for federal, state, municipal and private clients across a diverse range of market sectors.
Walsh will be responsible for positioning ReyCon for greater market expansion as well as developing its project teams and enhancing operational processes.
Walsh was born and raised in Belfast, Northern Ireland, where he graduated from Ulster University with a degree in civil engineering.
A long-time resident of Stoughton, Mass., he has served several community and industry associations.
"Karl is an industry all-star and brings a wealth of operational, construction and leadership expertise to our team," said ReyCon president Michael Reynolds. "But even more importantly, Karl's authentic leadership style and collaborative approach will cultivate strong project teams and client relationships. He will be instrumental in driving the future success of our firm. We are absolutely thrilled to welcome him to the team!"
"ReyCon is a company on the move with an impeccable reputation! I am excited to be joining this talented team and look forward to serving our clients while realizing the maximum potential of each employee and company as a whole." Walsh said, adding "ReyCon's success to date is founded on a commitment to provide first class service to each and every client. Mike is adamant this remain the #1 core value as we expand our market presence."